The effect of trauma on health Dr Tony McHugh, Clinical psychologist
The effect of trauma on health, the impact of childhood and adult-origin traumatisation Dr Tony McHugh, Clinical Psychologist
How can trauma possibly be relevant to dietetic practice? Trauma related mental health conditions can result in poor physical health and in our day to day practice we are possibly seeing many clients with chronic diseases who also have an underlying trauma related mental health issue.
In Tony's webinar he discussed:
What is trauma? As defined by the Diagnostic and Statistical Manual of Mental Disorders (DSM)
What is the health impact of trauma-related mental health conditions?
How may clients who have experienced trauma-related mental health conditions present?
How should a dietitian manage a client whose trauma-related mental health condition is affecting their life?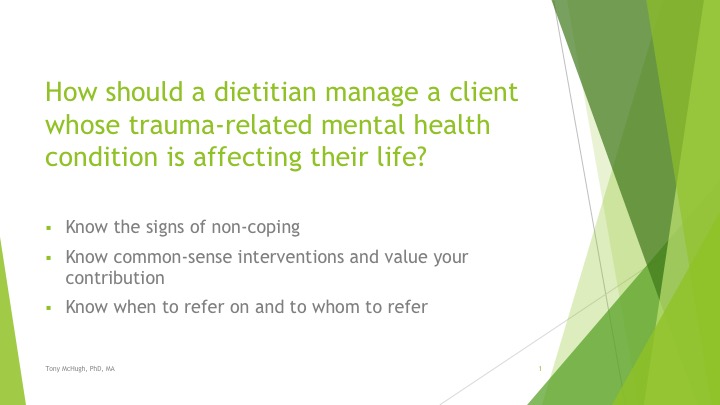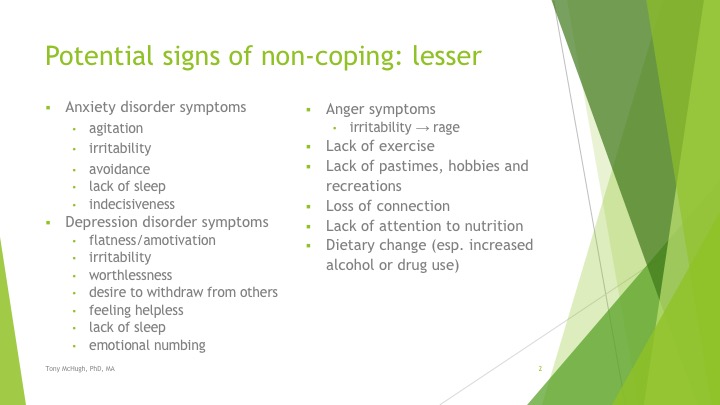 Tony gave us an understanding of the psychological signs of trauma which will help us identify when there is a need to respond quickly to our clients and when we need to refer our clients on.
The further reading includes an article written by UK Dietitian Lucy Aphramor Why we need to talk about trauma in public health nutrition. She states "as practitioners, it is imperative that we adopt a trauma-informed approach. This means practising in a way that recognises the impact of trauma on people's bodies, behaviours, beliefs and capacity for learning, planning and change."
Tony's webinar helps us understand the significance and relevance of trauma in our practice.
Dr Tony McHugh was the principal psychologist and manager of trauma-related mental health services for Austin health for 20 years. During this time, he set up comprehensive psychological treatment programs for people who have been severely traumatised including personnel and combat veterans working with the Australian Defence Force, police and emergency service workers and community groups.
Currently he is a Senior Fellow in the Department of Psychiatry at the University of Melbourne, an Associate of Swinburne University and Patron of the Retired Peer Support Program of Victoria Police. Tony works in private practice, supervises psychologists and conducts research into trauma-related mental health conditions.
To register for this webinar and associated documents click here