Lifestyle change, diabetes and related conditions in Australian Aboriginals: Professor Kerin O'Dea
In 1982 Kerin O'Dea spent seven weeks living a traditional hunter-gatherer lifestyle with 10 Aborigines from Mowanjum community (Derby, WA) all of whom had been living an urban lifestyle and had type 2 diabetes. After seven weeks on a traditional hunter-gatherer diet, metabolic indicators of type 2 diabetes were either greatly improved or completely normalised.
This study was the first to clearly show reversal of type 2 diabetes. It has been cited over 240 times in journals ranging from sociology and public health, diabetes, biochemistry and the gut microbiome.
In her presentation, Kerin illustrates and describes her experiences and scientific findings during the seven weeks and the implications of those findings.
Prior to European settlement, Indigenous Australian were extremely healthy, this is in stark contrast with their current health situation. The study which Kerin conducted gives us clues into the mechanisms which protect against diabetes and cardiovascular disease.
After seven weeks living a hunter-gatherer lifestyle the following changes occurred to metabolic markers of diabetes and risk factors for heart disease:
Fasting and 2 hr. glucose fell markedly
Fasting insulin fell
Insulin secretory response increased
Blood pressure fell
Triglycerides and other lipids normalised
Bleeding time increased
Careful dietary analysis was conducted over the seven-week period and it was revealed that just three foods comprised over 80% of the total energy consumed
Kangaroo 36%
Long yams 28%
Freshwater bream 19%
The average composition of the food eaten over the study was 1200 kcal (5,000 kJ)/person/day, of which 54% was protein, 33% was carbohydrate and 13% was fat (4% saturated, 5% monounsaturated, 4% polyunsaturated- particularly rich in long chain n-3 PUFA (esp. DHA) and arachidonic acid.
Kerin postulates that the striking health improvements were due to:
The high protein, bulky diet which likely aided satiety. Despite the low energy intake and losing weight herself, Kerin describes that she did not feel hungry
Regular physical activity
Low energy intake being probably the most important factor
Kerin discusses important features of the hunter-gatherer diet and lifestyle:
Physical activity is built into daily routines
Land management practices which ensured food abundance
Comprehensive knowledge of animal distribution, life cycle and behaviour
A wide variety of plant foods consumed. Relative to many of their cultivated forms, wild plant foods are nutrient-dense. Honey being the only energy-dense carbohydrate source
Eating patterns

Enormous variations in food intake day-to-day and seasonally
Food was usually consumed as available, with little wastage
Capacity to gorge – eg. 2-3 kg meat consumed in a single sitting
Finally, she reflects on how chronic disease outcomes for indigenous peoples can be improved.
Kerin attributes the exceptional success of her study to the participants from Mowanjum Community, and to those who provided help and support in other ways. She is especially grateful for their good-humoured cooperation and help during this seminal reversion to hunter-gatherer-diet study.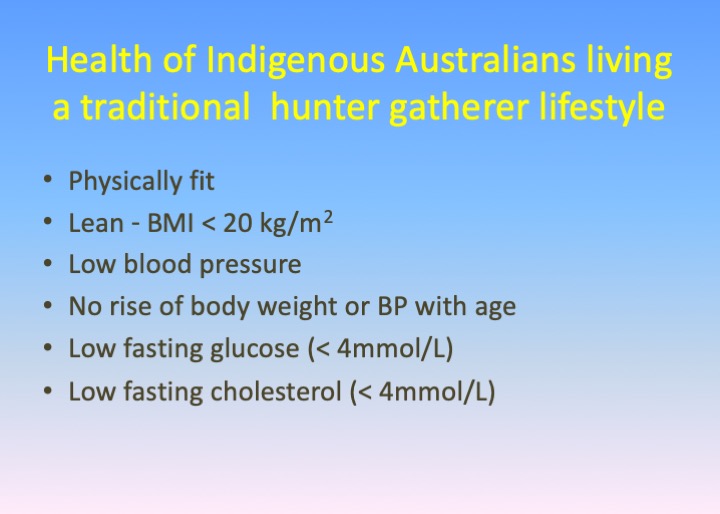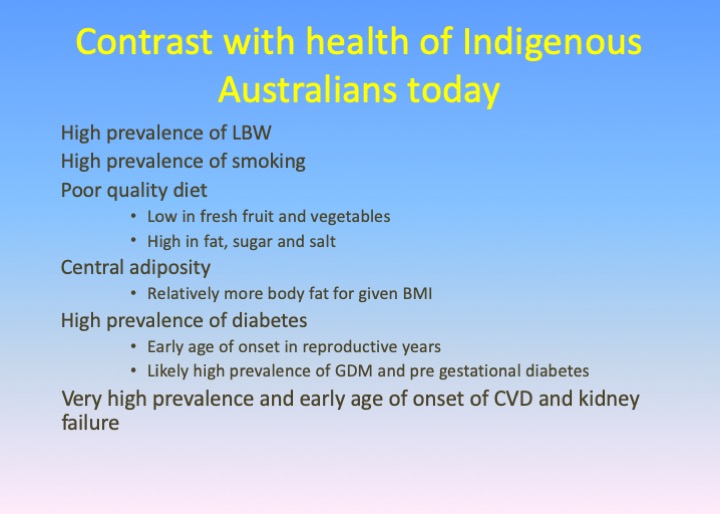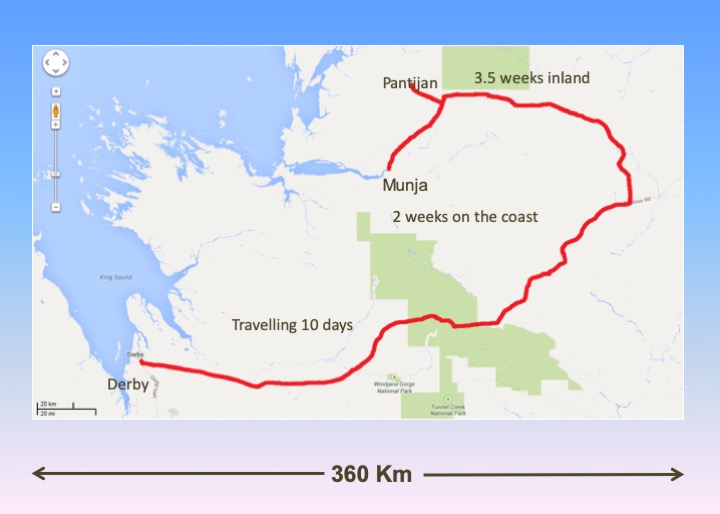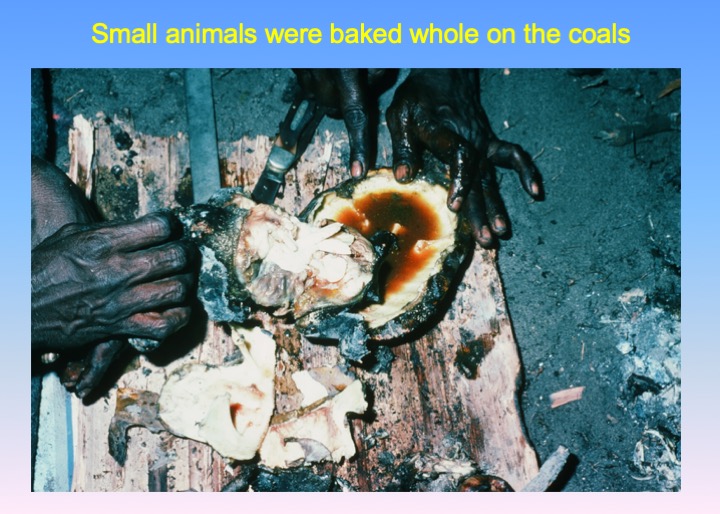 About the presenter
Kerin O'Dea, Professor Emeritus, University of South Australia.
Kerin O'Dea PhD, AO, retired in December 2016 as Professor of Population Health and Nutrition at the University of South Australia. As a nutrition scientist and public health researcher, she is best known for her novel research on the marked beneficial health impact of temporary reversion to traditional hunter-gatherer lifestyle on diabetes and associated conditions in Australian Aborigines. Her strong research interest in the therapeutic potential of traditional diets in the prevention of chronic disease is particularly focussed on the Aboriginal hunter-gatherer and Cretan Mediterranean diets. This has led to her making major contributions in the understanding of the relationship between diet and chronic diseases, particularly type II diabetes and related conditions such as obesity and vascular disease. Kerin has held numerous senior academic and research leadership positions, including Director of the Menzies School of Health Research in Darwin (2000-2005). During her career, she has been active on key national committees advising government on health and medical research, Indigenous health, nutrition and diabetes.
To register for this free webinar and associated documents including the assessment quiz click here