The impact of COVID-19 on eating disorders by Sylvia Pyatt, UK and New Zealand Registered Dietitian
By

Anthea Talliopoulos, APD
---
COVID-19 has had a significant impact on eating disorders, both worsening pre-existing conditions and, also resulting in an increased incidence of newly diagnosed eating disorders. The negative effects of the pandemic on eating disorders have been worldwide, with eating disorder prevalence almost doubling in the UK, a 123% increase in anorexia nervosa admissions being seen in the US, a 31% increase in eating disorder admissions in Wellington NZ, and an over 100% increase in anorexia nervosa admissions in some states of Australia. Patients have been presenting with lower body weight than before and worsening eating disorder symptoms, with lockdowns further worsening access to services.
In this insightful presentation, UK and New Zealand Registered Dietitian Sylvia Pyatt shares her knowledge and expertise on the impact of COVID-19 on eating disorders from her work with eating disorders in the UK in 2020 during the beginning of the pandemic, followed by lockdowns in New Zealand upon her return to New Zealand in 2021. She outlines the key causes of worsening symptoms in patients living with eating disorders, including the effect of loneliness and isolation from lockdowns, increased food restriction and 'panic buying', increased anxiety, and decreased access to face-to-face services.
In amongst these triggers, social media has further exacerbated eating disorders, with many individuals and adolescents increasing their screen time by up to 50%, and many receiving messages about dieting, weight-loss, and food restriction. An increase in general weight-loss campaigns by mainstream media during the global pandemic further exacerbated eating disorders.
As clinicians, it is crucial that we screen our patients for eating disorders, refer on if required and focus on the structure and regularity of eating to optimise the dietary intake of individuals living with eating disorders.
Summary:
The COVID-19 pandemic has had a significant impact on the prevalence of eating disorders worldwide, presenting as a major public health issue.
This time of uncertainty has worsened anxiety and resulted in increased restriction in patients living with anorexia nervosa, and increased bingeing and purging in those with binge eating disorder.
Social media has had a significant negative impact on increased food restriction in adolescence, which is particularly concerning given that screen time has further increased during lockdowns.
As health professionals, it is crucial that we screen our patients for eating disorders, seek to improve their dietary adequacy, and normalise healthy eating behaviours.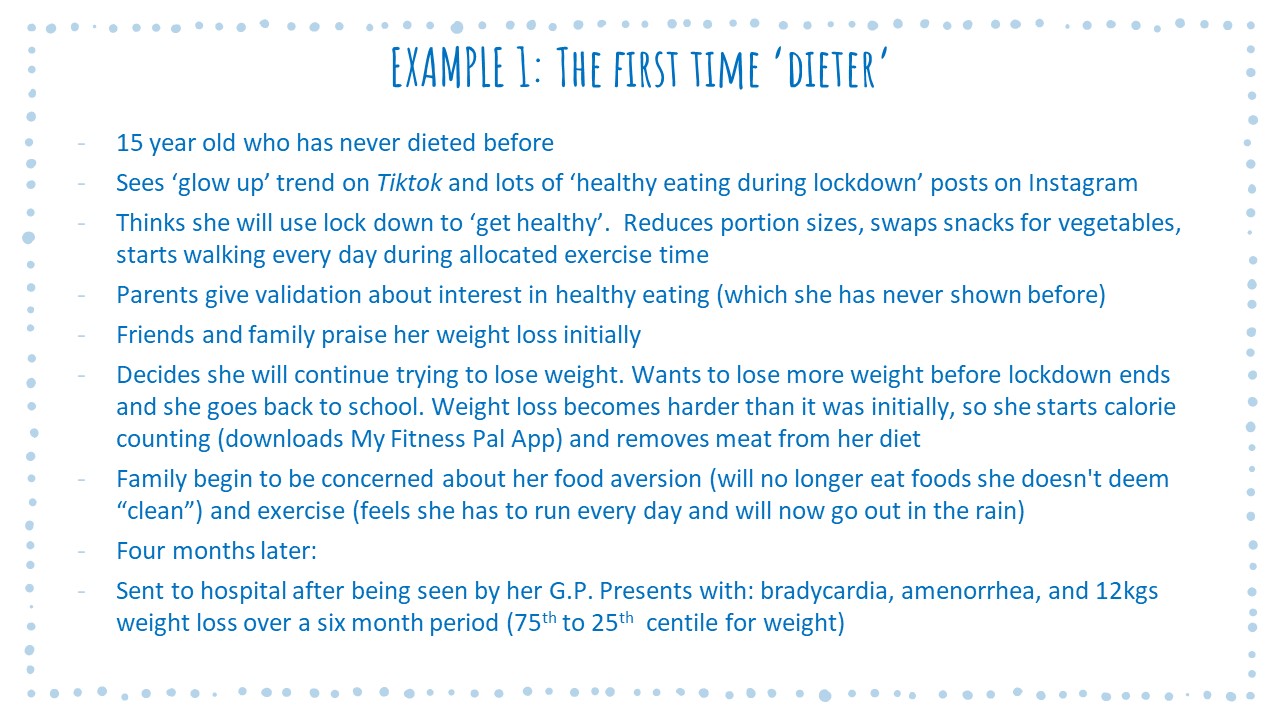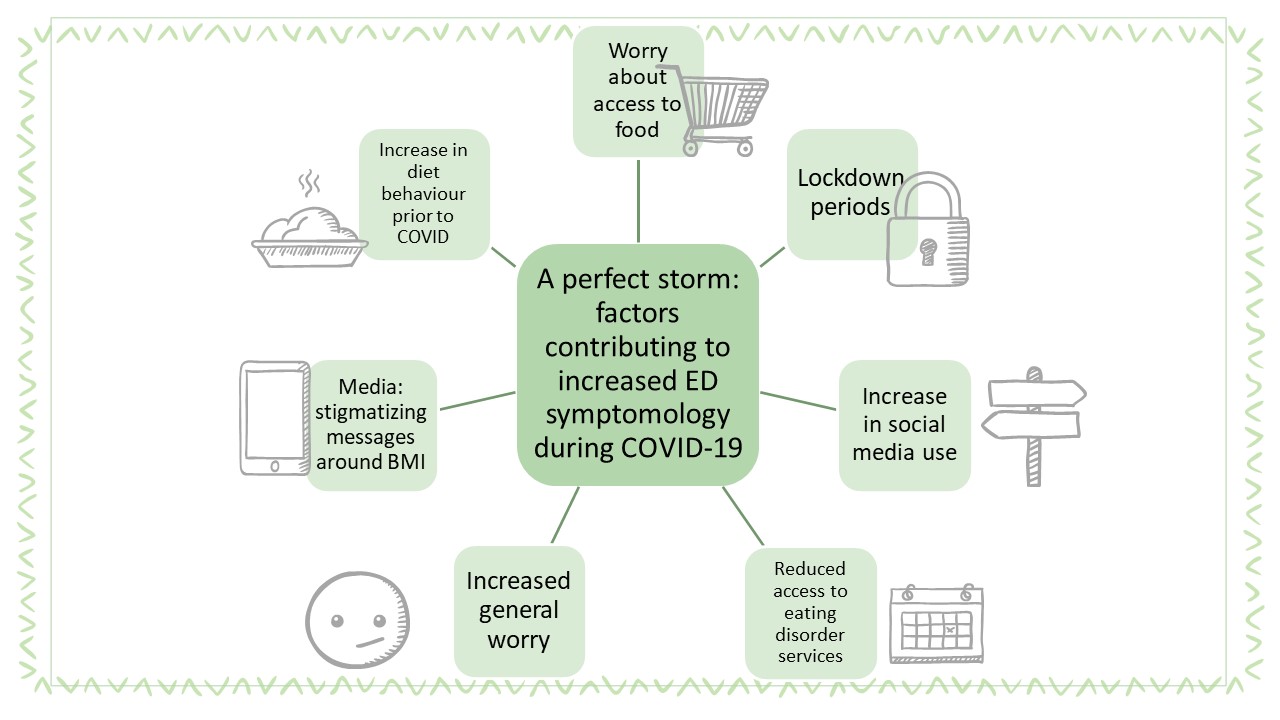 Sylvia Pyatt is a UK and New Zealand registered dietitian. She currently works as a specialist mental health dietitian at the South Island eating disorder service in New Zealand. Sylvia previously worked for Tupu Ora (Auckland Regional Eating Disorder Service) and for the NHS. In 2020 she was working for a NHS unit in the UK which specialised in the treatment of severe anorexia nervosa. It was at this time she saw first-hand the impact of the COVID-19 pandemic on this mental illness. Her experience means that she has a special interest in the pandemic's effect on patients with eating disorders, and how dietetic intervention will need to change to meet the increasing demand for eating disorder treatment.
To register for the presentation and associated documents including the assessment quiz click here