Talking about the C word: Hot topics and new ideas in nutrition and cancer
By

Lee Mason, APD
---
Talking about the C word: Hot topics and new ideas in nutrition and cancer. A full day event held at Peter MacCallum Cancer Centre June 27th 2019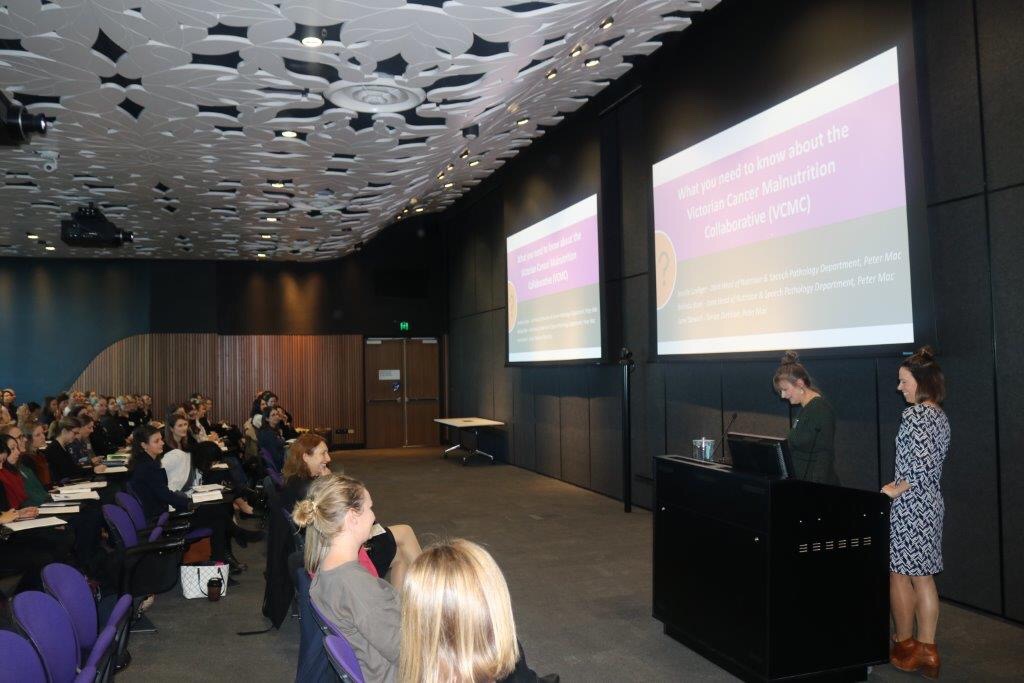 The day was made up of four very interesting sessions
1. Hot topics in Nutrition and Cancer
Dr Barbara van der Meij (Mater Health Brisbane and Bond University) discussed her research into amino acid (aa) metabolism in cancer, the mechanisms for higher aa turnover in cancer, and the marker aa's that can help us better understand protein turnover and breakdown.
Lisa Murnane (Alfred Health) spoke about her research in myosteatosis (infiltration of fat into muscle) in osophagastric cancers and its link to poorer outcomes and increased complications. What was interesting was that myosteatosis can occur irrespective of BMI.
Jane Harrowfield (Peter MacCallum Cancer centre) gave us a better understanding into the biochemical processes for cancer cachexia, the cascade for cachexia and how to better define cachexia versus malnutrition. She also discussed protein requirements and the use and increasing evidence for the use of EPA's to help reduce inflammation.
The Team at Peter MacCallum Led by Janelle Loeliger presented information about the Victoria Cancer Malnutrition Collaborative, the resources already developed and in Development and how to access information and become involved. More information can be found here.
2. The Gastrointestinal tract: Emerging treatments and Research
Introduced by Dr Andrew Buckle Gastroenterologist and bird enthusiastic (Peter MacCallum Cancer Centre). Andrew talked about the biota in the bowel firmicutes (gram +ive bacteria) Bacteroides (gram –ive bacteria) and the niches along the length of the bowel. The work they have done at Peter MacCallum in Faecal Transplants has had 100% success in treating C Difficile. He states this is possibly because of the screening processes they use to ensure there are no other pathogenic bacteria, viruses or yeasts in the healthy doner stool. He described some possible mechanisms for development of gastric cancer. He also discussed colitis possibly involved in use of immunosuppressive medications and the success they had in resolving the colitis, BUT this on the ground research need further evidence base before it becomes standard practice.
Dr Barbara van der Meij followed with a very interesting session on leaky gut and methods for checking if leaky gut can be diagnosed. She used in her research to explain a measure for defining leaky gut. It is a ratio of Lactulose/Rhamnose in the urine. A higher ratio may indicate Leaky gut. She again referred to her study using 16 cancer patients and 16 controls looking at protein synthesis and the fact that targeted higher protein intake can impact outcomes and quality of life.
Dr Alesha Thai discussed 'Immunotherapy: Where to from here and GI related toxicity'. Alesha talked about the breakthrough we are having in the pathophysiology of immune checkpoints and targeted immune therapy. Alesha explained the cancers that can now be targeted with immune therapy. She also discussed the potential side effects and the unknowns for some genotypes as well as the fact that there are many other possible checkpoint chemicals we may be able to target in the future.
3. Nutrition Cancer and Mental Health
Dr Barbara van der Meij discussed the research around Tryptophan, metabolism, depressed mood and cognitive function in patients undergoing chemotherapy. Barbara discussed the concept of 'chemo brain' and the testing methodologies used to assess cognitive function. She demonstrated that there is altered tryptophan metabolism in cancer. She showed evidence where 'N5 Tryptophan' rate of appearance post was positively correlated with improved word Fluency.
Dr Amy Loughman (Deakin University) discussed diet and a number of mental health conditions and studies that demonstrated probiotics and diet quality/fresh food diets could improve mood. The research she showed included shift workers/poor sleep patterns, autistim, and bacteria free mice studies.
4. The patient experience "Caring for the person".
Emma McKie (Peter MacCallum) talked about the impact of family support and peer patient support in improving compliance and likelihood of acceptance of a nasogastric tube during chemo/radiotherapy.
Erin Lang (Peter MacCallum discussed neuroendocrine tumours (NETS) from a patient perspective
Natalia Dewiyani, a happiness coach who had been diagnosed and treated for Ewing's Sarcoma in 2015, then melanoma in 2016. She has commenced a movement that encourages people to embrace laughter and human touch to support each other. Her joy was delightful and her story impacted us all. Her information can be accessed here
If you are interested in any further information about the day please contact the dietitians at Peter MacCallum for further information.