Pre-term infants: long-term nutritional issues. Colleen Oliver, Neonatal Specialist Dietitian
By

Anthea Talliopoulos, APD
---
Pre-term infants are a diverse population with very different nutritional needs to infants born at full-term. As almost 9% of infants are being born pre-term in Australia, with medical and nutritional interventions drastically increasing survival rates, the importance of a neonatal dietitian is becoming increasingly recognised in meeting their nutritional needs.
In this unique presentation, Colleen Oliver, a Neonatal Specialist Dietitian, shares her extensive knowledge and expertise in the acute and long-term management of preterm infants. Despite their low birth weight, preterm infants have elevated energy, protein, fluid, and sodium requirements than full-term infants per gram of body weight, indicating the importance of monitoring and meeting their nutritional needs. Colleen discusses the importance of this through referring to the literature, in which meeting elevated requirements, particularly for protein, were positively associated with improved developmental outcomes, including brain growth, organ maturity and cognition.
The significance of the provision of breast milk, particularly for the natural Human Milk Oligosaccharides (HMOs) is also outlined, having a critical role on the developing gut microbiome. Current evidence indicates that HMOs reduce the risk of infections, including life-threatening necrotising enterocolitis (NAC), improve feed tolerance, improves cognitive development, and is protective against allergy and metabolic disorders later in life.
The importance of frequently reviewing pre-term infants upon discharge from hospital and in working closely with a Paediatrician, Speech Pathologist, a Child Healthcare Nurse, and other members of the Multidisciplinary Team is also outlined. This is crucial to ensure that infant's growth is healthily tracking along a percentile line, that their oral-motor skills are monitored, that they are tolerating a transition from enteral to breast feeding, and later down the track that solids are introduced in a timely manner.
Summary:
Dietitians are increasingly being recognised as having a critical role in the healthy development of pre-term infants.
Breast-feeding should be supported and encouraged wherever possible to best support the developing gut microbiome of the developing infant, and to enhance future health outcomes.
Meeting elevated nutritional requirements per gram of body weight of pre-term infants is positively associated with healthy organ development, including brain development and cognition.
It is critical that Dietitians work with the broader multidisciplinary team, seeking advice when unsure, to ensure that the infant is developing healthily, tracking along a percentile line, and able to be introduced to a range of protein and iron-rich solids at an appropriate time.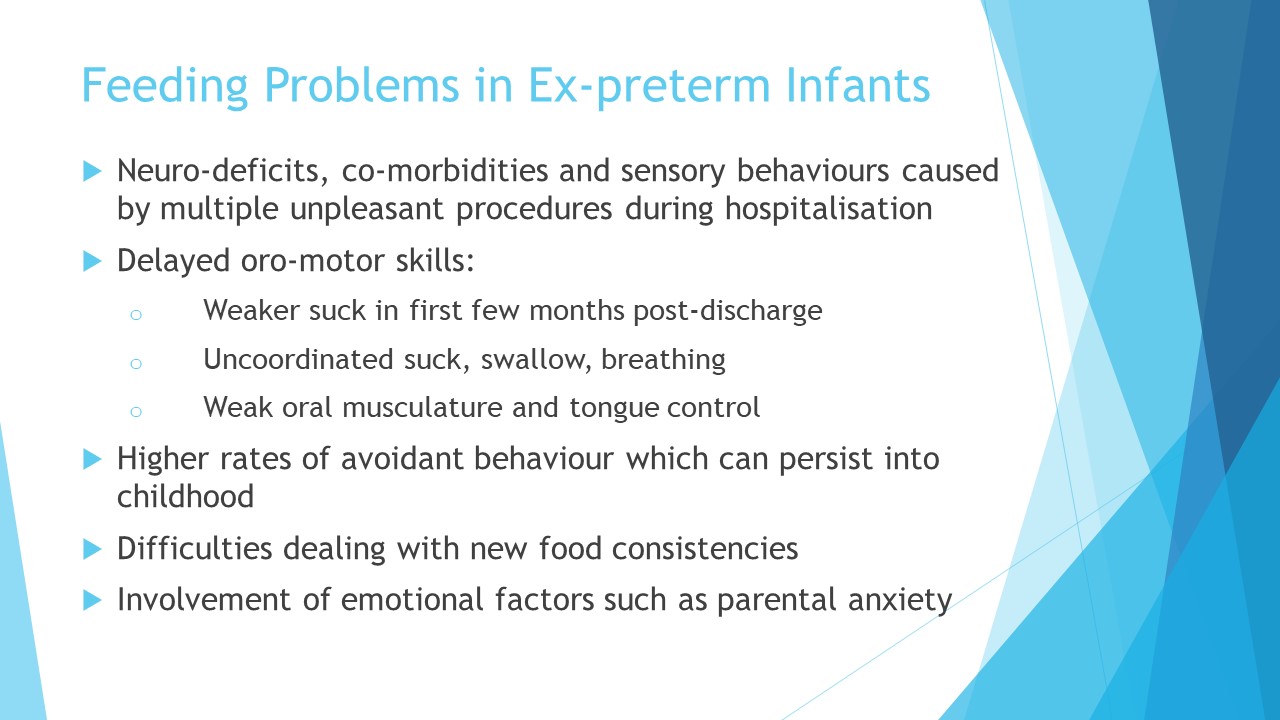 Colleen Oliver is a Clinical Specialist Dietitian working in the Neonatal Unit at the Royal Women's Hospital in Melbourne. She has over 20 years of paediatric experience working in children's hospitals across Australia and the UK and currently works with some of the most vulnerable infants born prematurely and their families. She is involved in clinical neonatal nutrition research and infant feeding policy development. Colleen is also a Steering Committee member of the Australasian Neonatal Dietitians Network (ANDiN), a support network founded in 2016 for neonatal dietitians to share knowledge and improve clinical skills and enhance evidence-based practice in neonatal nutrition.
To register for the presentation and associated documents including the assessment quiz click here