Nutrition and Burns Presented by: Michelle Cork, Senior Dietitian, State Adult Burns Unit WA
Michelle's take-home message is the importance of good communication with both our burn's patients and the burn's team. Having 1:1 contact with our burn's patients regularly means we can modify our treatment plan as frequently as needed. But it can be difficult to get time with a burn's patient, they have a busy schedule with baths, dressings, surgical procedures, and appointments with other members of the burns team. We have to be determined to make time to see them. To ensure nutrition is given the priority it deserves in the burns unit we also need to be an active participant of the burns team by attending team meetings and communicating the nutrition plan.
Michelle provided a detailed explanation of the role of nutrition in burns patients.
She started out by defining a burn and describing the demographics of burns patients. Michelle then outlined the pathophysiology and nutritional needs of a major burn with respect to the foremost nutritional concerns we have: hypermetabolism, carbohydrate, protein, fat and vitamins/minerals.
Finally, she described the dietetic and patient-centred goals and summarised nutrition approaches to meet those goals eg. enteral feeding/ diet/ protein/ CHO/ vitamins and minerals.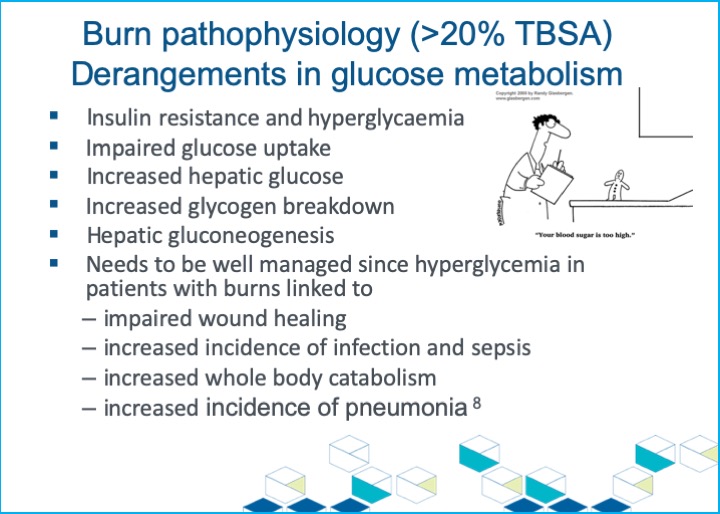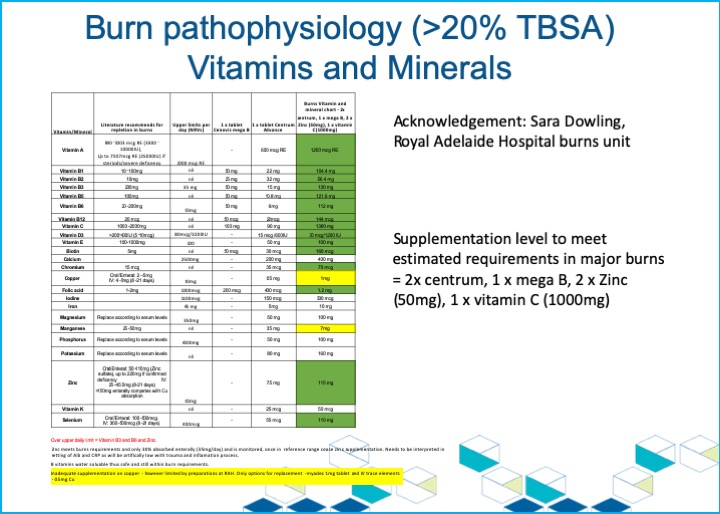 Michelle Cork is the Senior Dietitian for the State Adult Burns Unit, at Fiona Stanley Hospital in Western Australia. She is currently undertaking a Masters of Clinical Science through the University of Adelaide which involves a systematic review of perioperative enteral feeding in burns patients. Michelle has presented at the Australian and New Zealand Burn Association conference, and is a member of the Australian and New Zealand Burns Dietitian Discussion Group.
To register for the webinar and associated documents including the assessment quiz click here