Implementing the IDDSI in a 9-site healthcare organisation. Presented by Lina Breik, APD
In 2019, Lina took on a Project Lead role at Eastern Health to implement the new International Dysphagia Diet Standardisation Initiative (IDDSI) across the 9 Eastern Health sites. This was a 6-month project role that involved engaging a wide variety of internal and external stakeholders. As one of the first organisations in Victoria to fully implement IDDSI across all its sites, Lina was keen to share their story on the how, what, when, and why of IDDSI implementation in a large tertiary-teaching organisation.
In her presentation she describes the step-by-step process she used:
Step 1 – Know the change. Know what IDDSI is, spend lots of time on the website learning about it
Step 2 – Know the reason for change. When asking people to change, it is really important to get the communication of the "why" right …Patient stories and real time data are weapons of CHANGE. Have them ready to go.
Step 3 – Know your people. Who will you talk to? Who does this effect? It is important to know yourself and know the people who can mentor you through a change process.
Step 4 – Document and Do. How do I track the process? List the deliverables (to-do list). List the predicted risks and issues (roadblocks). Lina describes the project log that she used and how it helped her decide what she should tackle first. She details the challenges that were faced by a range of stakeholders from the nursing staff to the kitchen.
Step 5 – Stop and check. Are you and those around you ok? Make sure you dedicate time to respond to any concerns. Evaluate, learn and celebrate.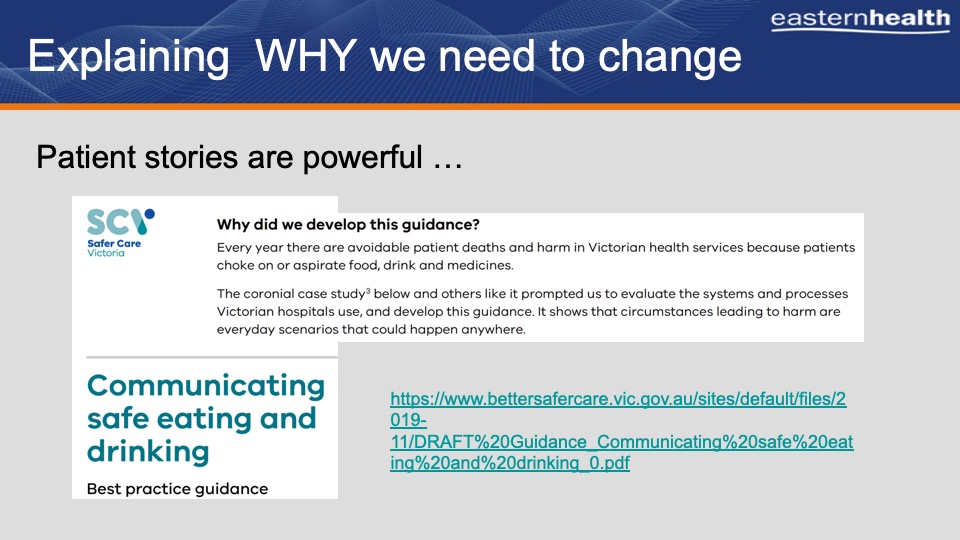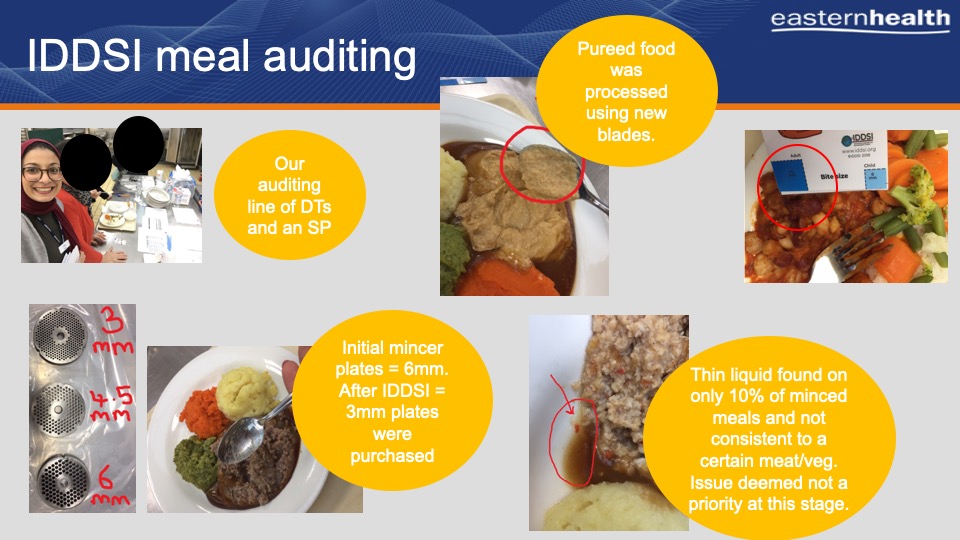 Lina Breik's clinical expertise includes feeding critically ill patients in the intensive care unit, and the nutritional management of home tube fed patients. Her non-clinical passions include quality improvement, change facilitation and teaching. She is currently pursuing a Master of Public Health, majoring in clinical research methods at Monash University.
To register for the presentation and associated documents including the assessment quiz click here