Disordered eating in diabetes: Issues for clinical practice. Dr Kylie Mosley PhD (Clin Health Psych)
The incidence of disordered eating in both type 1 and 2 diabetes are much higher than the general population. There is growing evidence that type 1 diabetes is a risk factor for developing eating disorders (insulin omission is reported by up to 40% of people with type 1 diabetes). One quarter of people with type 2 diabetes report binge eating. (See our webinar by Kiera Buchanan on Binge eating)
Kylie explains ways we can identify if our client with diabetes has an eating disorder:
1. Distinguish between diabetes self-management and disordered eating behaviours
Look for signs of disordered eating behaviours (Disordered eating occurs in all BMI categories and genders)
Unexplained, significant weight loss / gain
Suboptimal diabetes self-management and diabetes outcomes
Comorbid mood problems
Impaired psychosocial functioning
Physical signs of an eating disorder
Body image distortion
Concern expressed by friends and family
2. Ask open-ended questions about eating, weight management behaviours, and concerns about body weight, shape or size
Before exploring issues, normalize challenges in managing diabetes
Adopt a curious, empathetic manner
Ask direct questions that will allow the person with diabetes to provide more than yes / no answers
3. Use an appropriate screening measure eg. SCOFF or mSCOFF or Diabetes Eating Problem Survey (DEPS-R).
If an eating disorder is identified Kylie describes an action and treatment plan. Currently there are no treatments specifically designed for people with diabetes and disordered eating. Most treatments utilise approaches designed for eating disorders.
Kylie highly recommends the use of the NDSS Diabetes and emotional health handbook (she contributed to Chapter 8 Eating problems).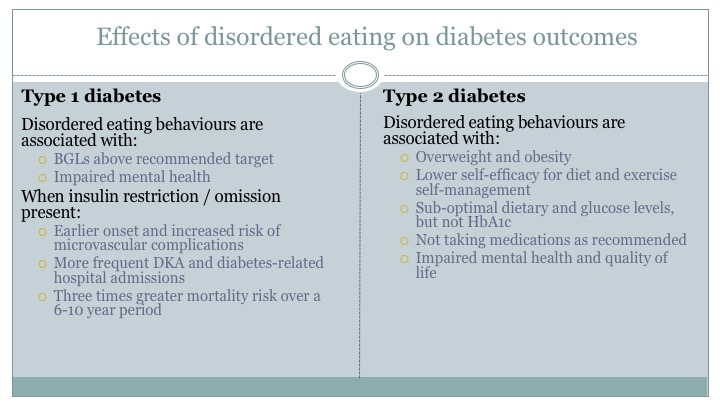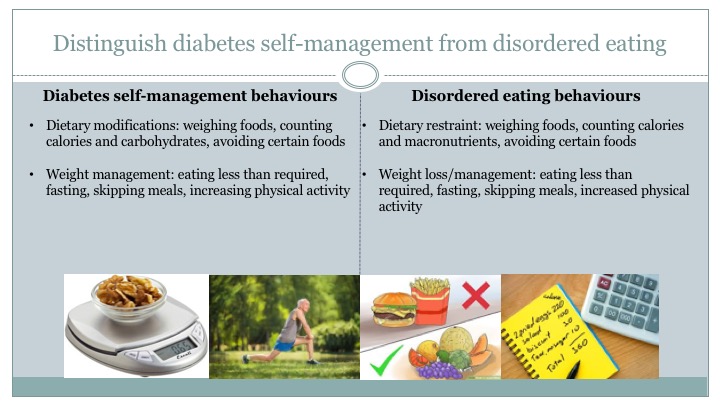 About the presenter
Dr Kylie Mosley PhD (Clin Health Psych); MPsych (Health); BScPsychol (Hons); MAPS is a psychologist with over 19 years' experience in academic, not-for-profit, and private settings in Australia, Singapore, and England.
Kylie has both led and been involved in research projects that had the ultimate goal of supporting people to effectively manage and cope with chronic health conditions, such as obesity, diabetes, and eating disorders. She has a particular interest in disordered eating and eating disorders, weight concerns, and body image.
To register for the webinar and associated documents including the assessment quiz click here