Disordered eating and eating disorders in type 1 diabetes. Presented by Helen d'Emden, AdvAPD, CDE,
By

Anthea Talliopoulos, APD
---
Disordered eating and eating disorders are significantly prevalent amongst people living with type 1 diabetes, with up to 40% of individuals effected, indicating the importance of routine screening for early intervention. The contributing factors to increased prevalence of eating disorders and disordered eating are complex, ranging from diabetes-specific factors, such as weight gain post insulin commencement, through to psychosocial factors, such as diabetes distress and low self-esteem. Diabulimia is also a concern, in which insulin is purposefully omitted or restricted, to prevent weight gain, such as during a purge. These disordered eating behaviours can present at a sub-clinical level, such as through a stable weight, and can be easily missed by clinicians if clients are not thoroughly screened and supported by the multidisciplinary team.
In this insightful presentation, Accredited Practising Dietitian Helen d'Emden provides a thorough outline on the significant psychological impact type 1 diabetes can have in triggering disordered eating and contributing to eating disorders. She explains the importance of screening and assessment through validated tools such as the Diabetes Psychosocial Assessment Tool (DPAT). These tools can provide critical information which is often missed in consultations such as financial concerns, social support, and weight and eating concerns.
As dietitians, we play a key role within the management of eating disorders and disordered eating through the consideration of the individual's thoughts and feelings around eating, aiming to normalise unrestricted eating habits. A weight neutral approach such as through a HAES or RAVES approach is crucial to address the root dietary concerns. Working closely alongside medical and mental health professionals will best assist our clients in providing early identification of disordered eating, and in minimising long-term complications.
Summary:
Disordered eating and eating disorders are highly prevalent amongst individuals living with type 1 diabetes.
Type 1 diabetes management goes far beyond weight and glycaemic control, and it is crucial that we address our client's concerns on a case-by-case basis.
The Diabetes Psychosocial Assessment Tool (DPAT) is one of the most validated tools on psychosocial screening to date, collating information such as eating and weight concerns which can easily be missed in consultations.
Psychological support is a key aspect within the management of type 1 diabetes, and routine psychology referral should be considered to optimise mental health and best support our clients.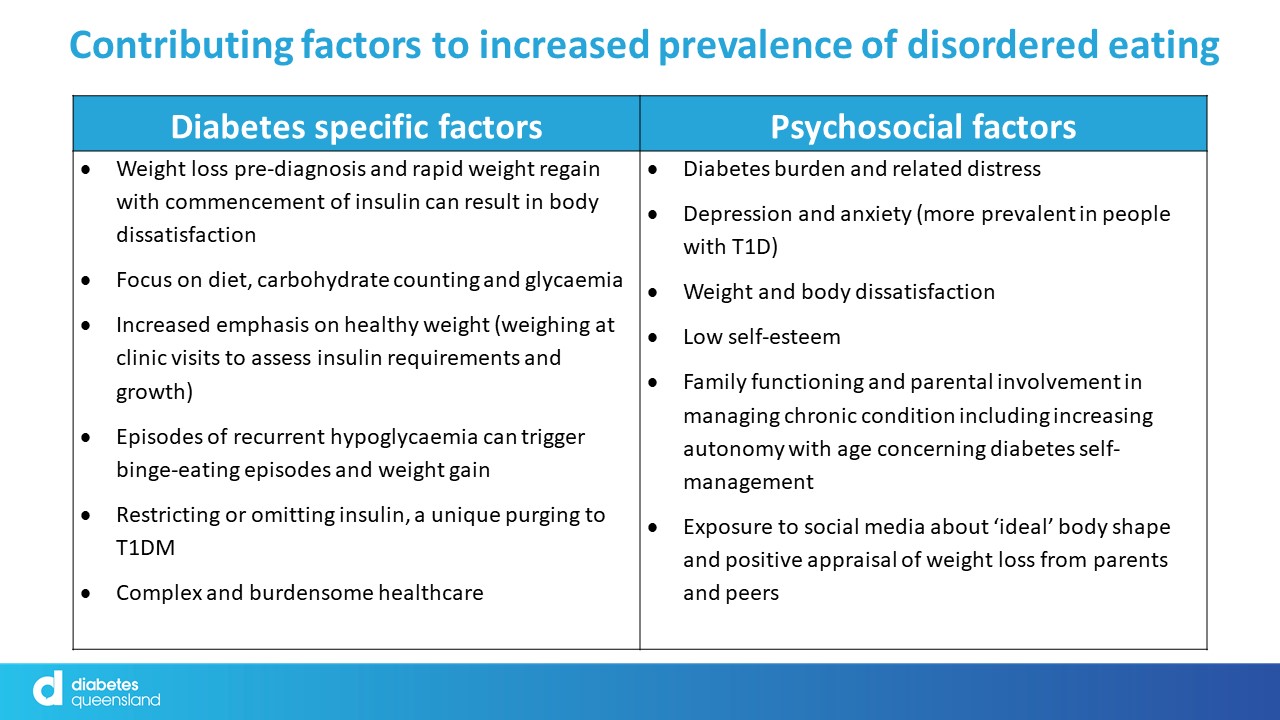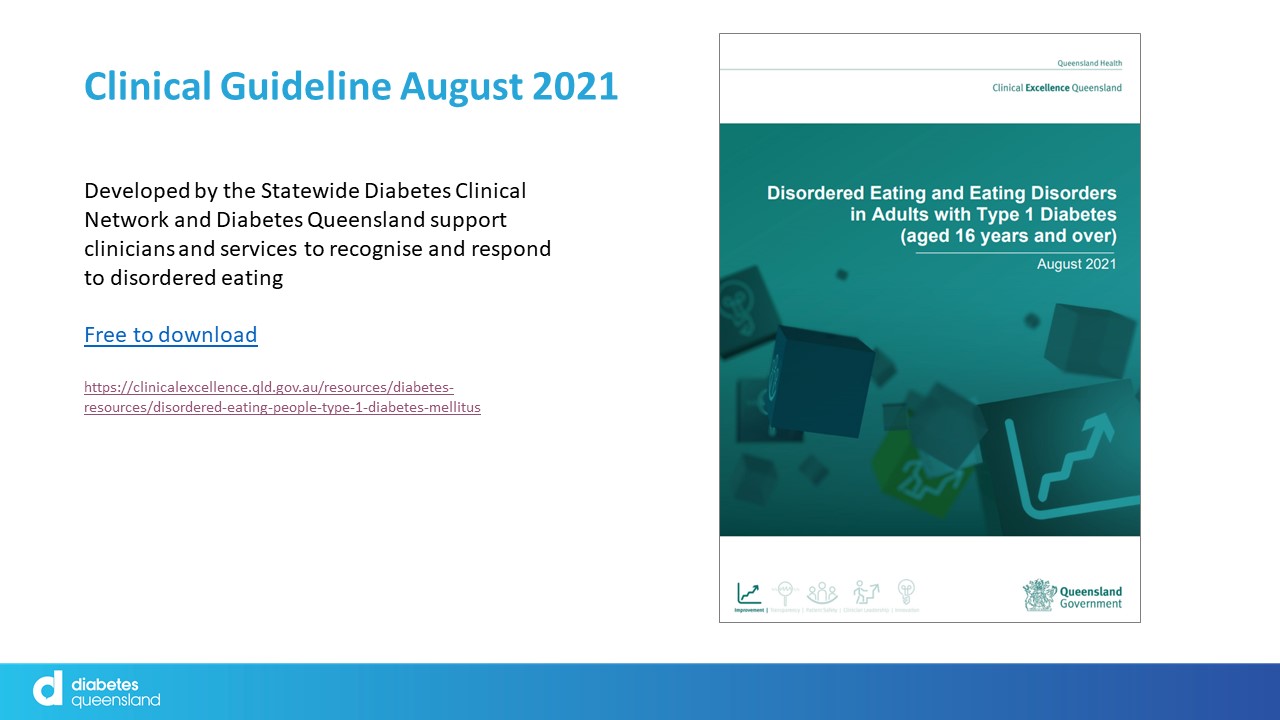 Helen d'Emden is an advanced accredited practising dietitian, a credentialled diabetes educator and has a Master of Philosophy from the School of Medicine, University of Queensland. Her masters research involved assessment of disordered eating, and psychosocial screening of adolescents and young adults with type 1 diabetes and other chronic diseases.
Helen chaired the working group for guidelines on the prevention, screening, assessment and management of disordered eating and eating disorders in type 1 diabetes. She is an accredited OzDAFNE, DESMOND and SMARTS facilitator, delivering OzDAFNE in regional centres in Qld and NSW. She recently led the development of the NDSS Online carb counting project.
To register for the presentation and associated documents including the assessment quiz click here