Conservative management of advanced kidney disease. Presented by Jessica Dawson, APD
As health professionals we typically aim to cure people. But what happens when cure is not an option? We can't always cure, but we can always care.
When someone with advanced kidney disease has opted not to have dialysis our emphasis needs shifting to a caring and supportive role. This does not mean we can't offer nutritional therapy; it means the dietary advice we offer becomes often more relaxed, patient centred and specific to their symptoms.
In Jess's presentation she steps us through the conservative management of advanced kidney disease and how this differs significantly from our traditional management.
Traditional goals in chronic kidney disease include prolonging life, preparing for dialysis or transplantation and reducing the risk of secondary complications. The goals of nutrition therapy in conservative management are quite different and focus on; supporting patients (and families), enhancing nutritional quality of life, minimising symptom burden, maintaining nutritional status and aligning the dietary plan with patient goals .
Jess discusses nutritional priorities and trade-offs in conservative management, considering issues like; acute vs long-term complications and symptom management vs disease progression.
Dietary counselling involves giving simple, specific and supportive advice. It allows patients to make informed decisions and requires careful explanation of the rationale for dietary advice.
To help us with our clinical practice Jess provides excellent tips for the symptom management of:
Xerostomia (dry mouth)
Anorexia
Taste changes
Constipation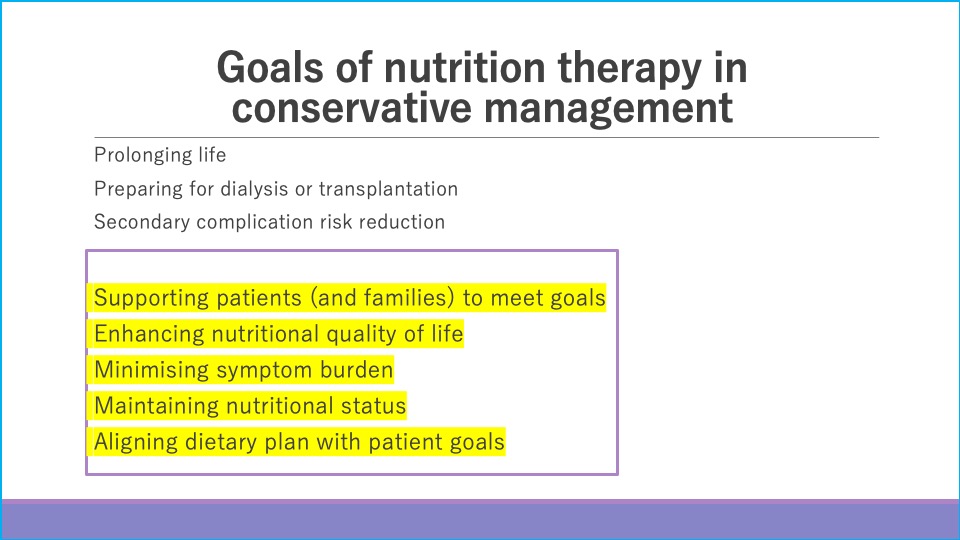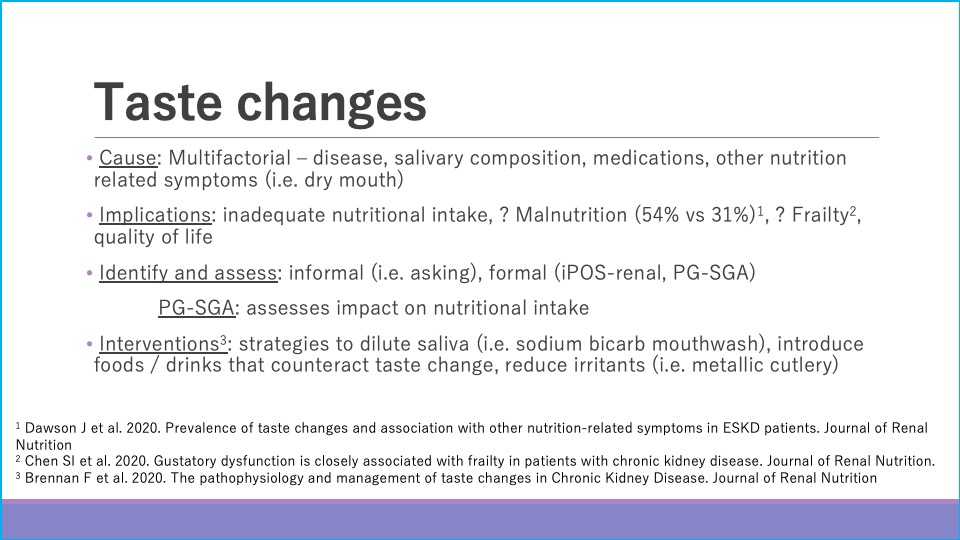 Jessica Dawson is an Accredited Practising Dietitian with extensive experience working in chronic kidney disease in Australia and the UK. She is passionate about enabling patient's to be able to self-manage their disease and is currently undertaking her PhD investigating the use of technology to support patient's dietary management in CKD. She has worked across all stages of CKD, including working in a nephrologist-led private practice. Jess is currently working in renal supportive care, a newly formed treatment pathway for people with end-stage kidney disease who are managed on a conservative, non-dialysis pathway.
To register for the presentation and associated documents including the assessment quiz click here