Assessing your GI client- a two part series by Marnie Nitschke, APD.
By

Anthea Talliopoulos, APD
---
Gastrointestinal health is arguably one of the most complex and evolving areas within the dietetic space which has received a lot of publicity in recent years. Whether working in private practice, community health, or clinical roles, individuals will commonly present with gastrointestinal issues, some of which are more complex conditions to manage than others. In managing clients in the GI sector, it is crucial that recommendations and the treatment plan are individualised. While this area can be interesting, sometimes as clinicians we can feel overwhelmed by the client's presenting conditions and symptoms, sometimes not knowing where to start.
In this relevant and detailed two part series, Accredited Practising Dietitian Marnie Nitschke shares her knowledge and expertise on the assessment, interpretation, and management of GI clients. She does this through a guided step-by-step approach, providing a thorough overview on the management of these clients.
In the first presentation, Marnie outlines the process of data collection, establishing rapport, and a detailed explanation of the interpretation of clinical data. She clearly explains the importance of asking relevant and timely questions to obtain key information in an initial assessment, including functional bowel issues, bowel habits, symptoms, pelvic floor function, and hormonal function. Marnie talks through commonly prescribed medications which cause gastrointestinal side-effects, such as oral hypoglycaemic agents, as well as the effects and relevance of PPIs, H2 agonists, prokinetics, and common laxatives in managing GI conditions. She also clearly explains key useful biochemical investigations, such as faecal elastase, and the clinical relevance of these investigations. The shortcomings of hydrogen breath tests in assessing intolerances are also clarified, as these can often be inaccurate and should be interpreted with caution.
In the second presentation, Marnie focuses on the interpretation of GI signs and symptoms including the utilisation of the Bristol stool chart to assess bowel habits, the Rome diagnostic criteria for IBS, and key management tips for common gut conditions including IBS, constipation, diarrhoea, reflux, bloating and IBD. She also describes how to gather a clear and relevant diet history, with a focus on meal timing, variety, food chemicals, FODMAPs, avoided foods, and symptoms after specific food consumption.
Overall, while the management of gut conditions is complex, dietetic management can have a significant positive impact on the quality of life of clients, thus being a very rewarding sector to work in.
Summary:
Clients with gastrointestinal conditions are perhaps one of the most complex client groups to manage, often presenting with numerous coexisting conditions, very individualised intolerances, and differing symptoms.
It is crucial to build rapport with these clients and exercise caution in interpreting their previous clinical investigations.
A thorough and timely assessment can have a significant impact on the care provided, as it is pertinent that relevant questions are asked and tailored to the individual in obtaining an accurate diet history.
Staying informed of common supplements, medical investigations, and medications are important in tailoring an individualised treatment plan to meet the needs of this client group in conjunction with the treating team.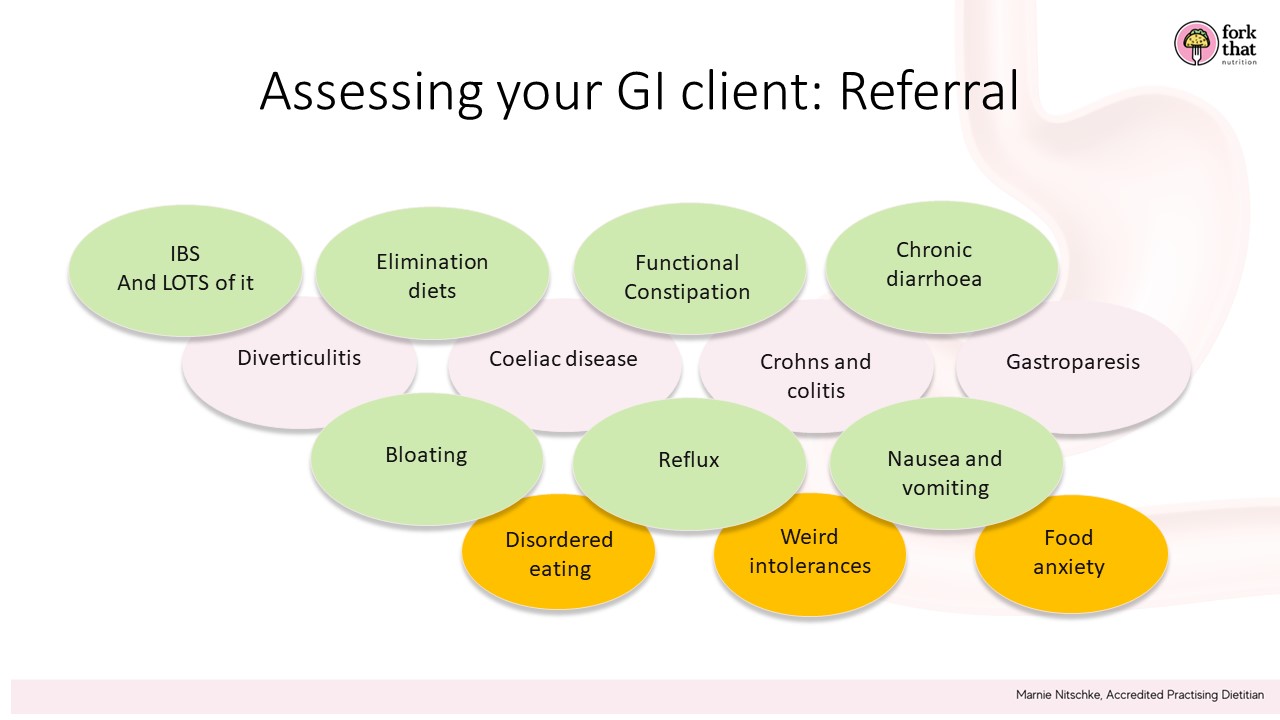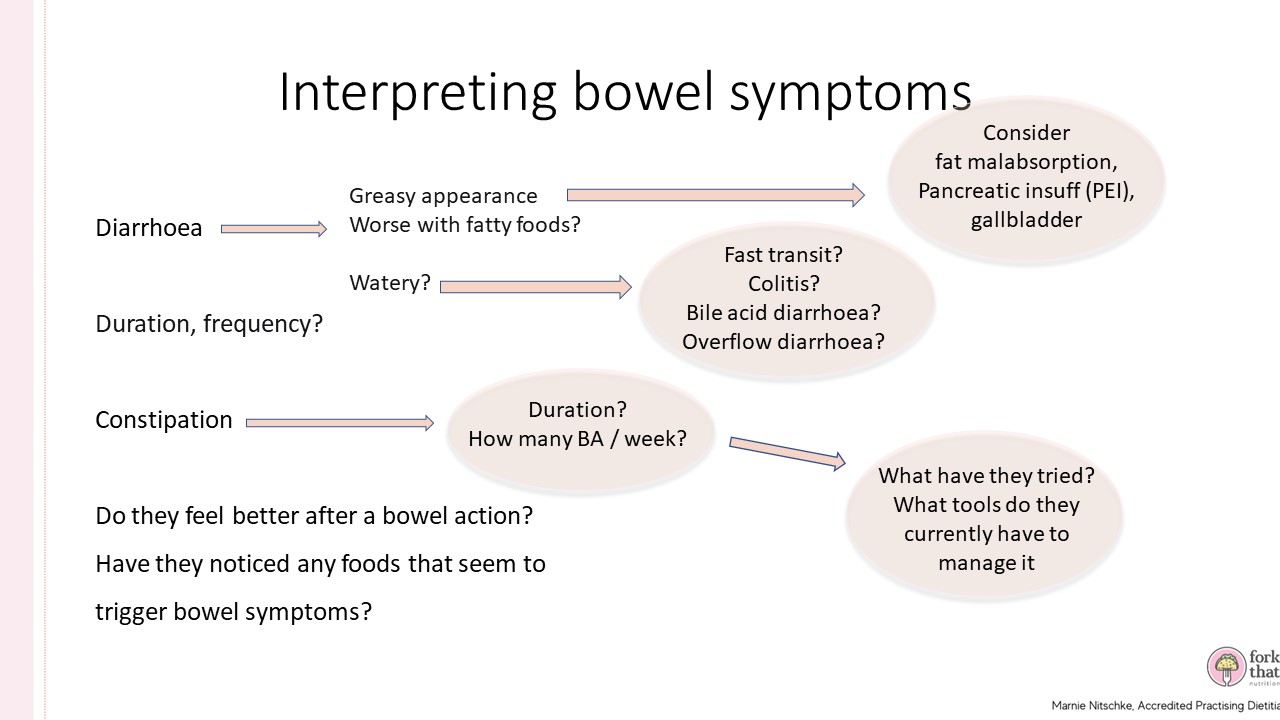 Marnie Nitschke is an Accredited Practising Dietitian with 21 years of experience, most of those working in the field of gastrointestinal nutrition. During her career, Marnie has specialised in gastroenterology at leading Melbourne hospitals, as well as working extensively with clients in private practice. She currently consults in her private practice Fork that Nutrition, as well as holding clinical and health promotion roles with Epworth Eastern Private and n4 food and health.
Marnie is a passionate advocate for evidence-based gut health, and practices within a Health At Every Size framework. She loves translating science into real food language to help her clients manage their health, feel better and most importantly - fall back in love with food.
To register Part 1 presentation and associated documents including the assessment quiz click here
To register Part 2 presentation and associated documents including the assessment quiz click here
This presentation is useful for dietitians looking up up-skilling in gastrointestinal condition management, being particularly relevant to private practice dietitians looking at specialising in gastrointestinal health.