Anorexia nervosa: key components of care by Marina Payne, APD, CEDC
By

Anthea Talliopoulos, APD
---
Eating disorders are a complex and specialised area in which not all health professionals may have confidence in treating. Recovery is not a straight line, and sometimes we may lose perspective of where to start, or move forward with our ED client.
In this very informative and practical presentation, Accredited Practising Dietitian and Credentialled Eating Disorder Dietitian Marina Payne shares her knowledge and expertise on the management and assessment of clients presenting with anorexia nervosa. In an engaging manner, Marina provides a case-based learning experience to guide the presentation, with the integration of evidence-based tools such as the RAVES framework, Motivational Interviewing, CEEDC medical monitoring tools, and The Plate-By-Plate Approach.
She discusses the critical importance of counselling skills in establishing a therapeutic relationship- including establishing rapport, providing validation, being empathetic, and remaining transparent throughout consultations. Without the establishment of a therapeutic relationship, clients are very unlikely to open-up and continue to seek help. Goal setting is also essential, and Motivational Interviewing should always be integrated to assess a client's readiness to change and ensure that goals are realistic and client-centred.
Beyond client-counselling skills and goal setting, Marina also outlines the key biochemical and clinical markers (such as blood pressure and GI function) and problematic behaviours (such as purging, fluid restriction, and body checking behaviours) which can clinically indicate the severity of the eating disorder and the long-term management.
Overall, Marina provides a comprehensive overview on the dietetic management of clients presenting with anorexia nervosa, providing a realistic and practical framework, being directly clinically relevant for dietitians seeking to learn more about this space.
Summary:
The dietary management of anorexia nervosa is complex, although dietetic input can have a significant impact on recovery and long-term management.
Evidence-based tools such as the RAVES framework Motivational Interviewing, CEEDC medical monitoring tools, and The Plate-By-Plate Approach can be clinically useful.
Rapport building and Motivational Interviewing in paramount in ensuring clients receive the care they require and ensure all goals are clinically appropriate.
It is crucial to obtain a thorough and detailed nutrition assessment as this will provide details on the history, trigger foods, the complexity, and severity of the eating disorder.
Multidisciplinary involvement including psychotherapy, medical input and regular follow-up is most likely to result in recovery.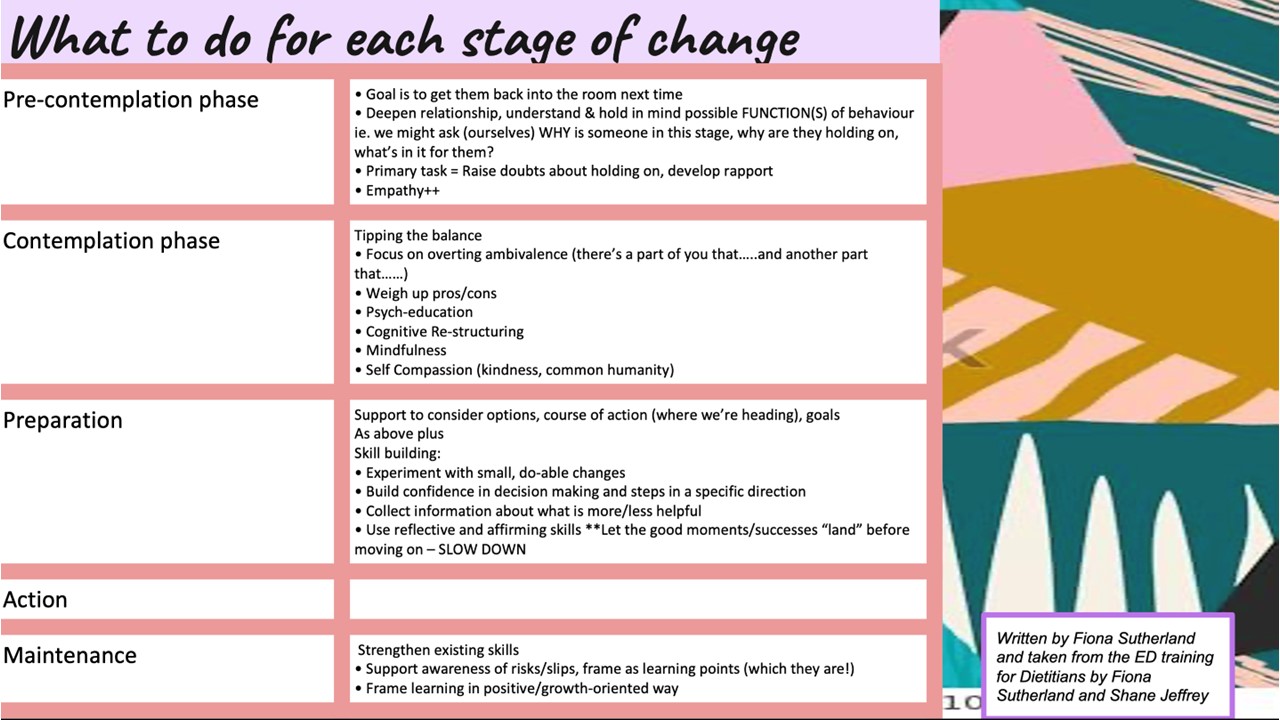 Marina Payne is a credentialed eating disorder dietitian working in private practice at Eat Love Live, and has worked in a collaborative team of health professionals in the area of eating disorders for three years. Marina is very passionate about her work in the eating disorder space, particularly, providing inclusive, compassionate and respectful care. Marina uses the non-diet approach and Health at Every Size paradigm to help her clients turn towards their own body's inner wisdom.
To register for the presentation and associated documents including the assessment quiz click here