Probiotics in Clinical Practice: Part 1 by Dr Jason Hawrelak
This is the first of a two part series: Probiotics in Clinical Practice: Evidence of Benefit, Mechanisms of Action, and Risks of Use: Part 1 by Dr Jason Hawrelak, ND, BNat (Hons), PhD, FNHAA, MASN, FACN
Probiotics are defined as 'Live microorganisms which when administered in adequate amounts confer a health benefit on the host' (Hill et al, 2014)
Jason explained the Genus, Species, Strain naming system for bacteria eg. Lactobacillus, acidophilus, La5. He emphasised the fundamental importance of recognising that the characteristics of probiotics are strain specific.
Probiotics have been used traditionally for the treatment of a range of conditions including: Irritable bowel syndrome, constipation, lactose intolerance. Jason highlighted novel and emerging uses of probiotics including: Prevention and treatment of atopic eczema, metabolic syndrome, type 2 diabetes and GORD.
There are a large range of mechanisms which probiotics use to provide their health benefits. Jason gave a description of eleven of these mechanisms including:
Competing with potentially pathogenic bacteria and fungi along the GIT for the limited space that is available
Production of beneficial compounds in the gut (short chain fatty acids, polyamines)
Anti-inflammatory activity
Modifying gut transit time
Decreasing visceral hypersensitivity
Beneficially alter metabolism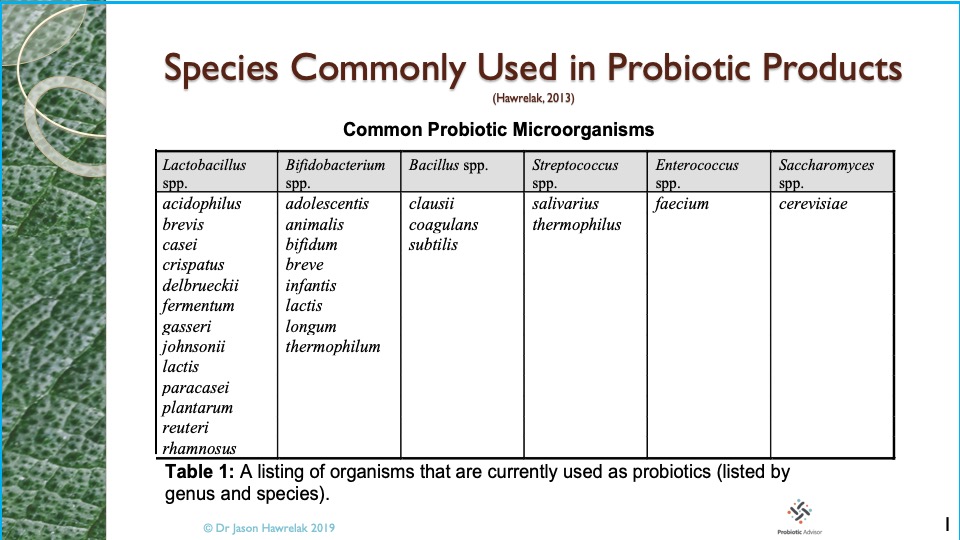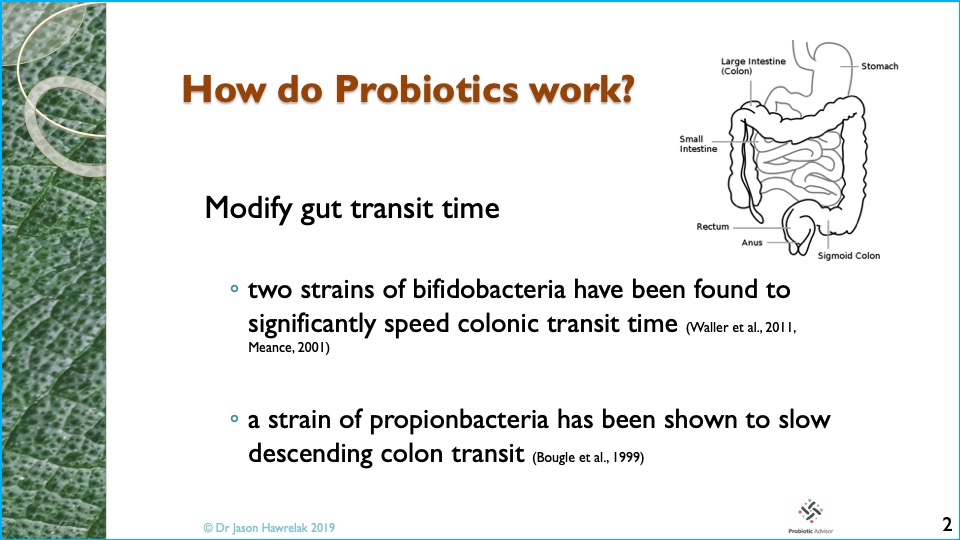 Dr Jason Hawrelak has had a long and passionate affair with the gut microbiome. His Honours and PhD degrees investigated the role of the gastrointestinal microbiota in IBS, the causes of dysbiosis and the clinical applications of pre- and pro biotics. He has worked clinically for over 19 years specialising in gut disorders and continues to research the gut microbiota, his probiotic advisor website- provides independent, evidence-based research on the clinical use and efficacy of probiotics. Jason also teaches at the university of Tasmania, the University of Western States in Oregon and is a Fellow of both the American College of Nutrition and the Naturopaths and Herbalists Association of Australia.
To register for the webinar and associated documents including the assessment quiz click here