Practising as an eating disorder dietitian Presented by: Maureen O'Connor, APD
From the first of November this year, a new Medicare item will be introduced for patients with eating disorders. This means that people with eating disorders could potentially be rebated by Medicare for up to 40 psychological and 20 dietetic sessions a year.
How do we ensure we are professionally competent in working in the area of eating disorders?
Using her wealth of experience and clinical examples Maureen explains key knowledge and skill areas which we need to be adept with:
Understanding DSM5 classification of eating disorders
If we have a personal experience with disordered eating, we need to address this
Using anorexia nervosa as an example of an eating disorder, undertaking a client assessment and developing a treatment plan
Maureen describes the attributes and professional dedication required to work in this challenging area which involves:
Ensuring you are working in a multidisciplinary team
Committing to ongoing education in eating disorders
Understanding the dietetic scope of practice and therapeutic boundaries
Professional supervision- an absolute necessity
Finally, Maureen provides a comprehensive list of reputable resources which dietitians working in the area will find useful.
This presentation is designed to provide a realistic framework in understanding the work and challenges involved working in the area of eating disorders.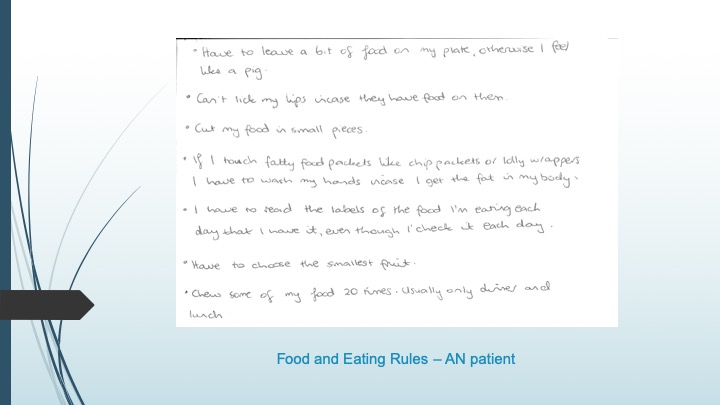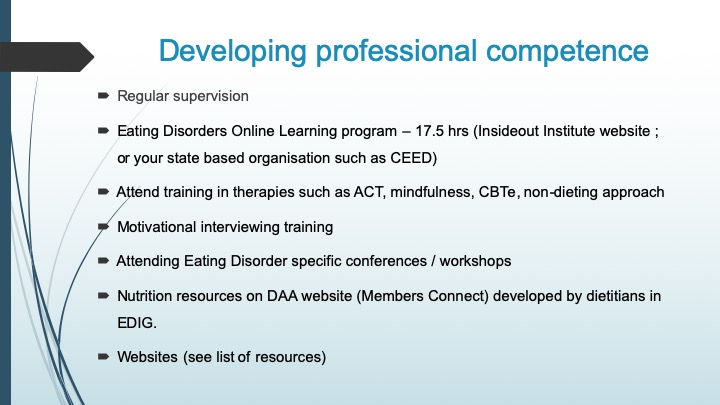 Maureen O'Connor is an Accredited Practising Dietitian with over 30-years' experience in the area of eating disorders. She has worked at specialist Eating Disorder Units with inpatients, day-patients and outpatients in both the public and private sectors and understands the important contribution an experienced dietitian can have in the treatment team. Maureen is currently working at Nourish.Nurture.Thrive, a private outpatient service for eating disorders, the Royal Women's Hospital, and in her own private practice.
To register for the webinar and associated documents including the assessment quiz click here