Plain English allergen labelling: What's new? Presented by Ingrid Roche, APD
With rates of food allergies rapidly increasing in Australia over the past 20 years, many consumers with food allergies are reliant on robust food labelling to avoid consuming food allergens. Until this year, there was no specific regulation within The Food Standards Code as to which format specifications allergens must be declared on food labels. However, the introduction of the Plain English Allergen Labelling (PEAL) by Food Standards Australia and New Zealand (FSANZ) in February 2021 allergen labelling will be revolutionised, making it much easier for consumers to identify which foods contain allergens. The new labelling system will be fully implemented by 2026.
In this topical and relevant presentation, Accredited Practising Dietitian, Ingrid Roche, shares her expertise on food allergies and the new labelling requirements. She provides a comprehensive explanation of the mandatory labelling changes for food manufacturers heading into the future.
Including:
Clearer allergen labelling requirements through PEAL. An extended list of mandatory allergen declarations. The specific terminology of each allergen. The common name by which allergens must be declared.
The location and formatting of allergen declaration on food labelling within the ingredient list, including an outline of the requirements of the latest mandatory summary statement.
The downsides to current Precautionary Allergen Labelling (PAL).
Recommendations for food labelling heading into the future, encouraging the use of VITAL 3.0, a currently voluntary standardised risk assessment process for food industry, to provide a more accurate risk assessment of allergens in trace allergen labelling.
Clinical Take-Home Messages:
New regulations with regards to allergy labelling have been introduced as of February 2021, with manufacturers having until 2024 to adopt this new labelling, before full implementation in 2026.
These new labelling requirements by FSANZ will make food packages much easier to read for consumers, outlining key allergens in a clear, consistent, and regulated mandatory format.
It is crucial for us as Dietitians to be aware of these changes in supporting our clients to make the safest food choices possible, and in providing up-to-date and relevant label-reading advice!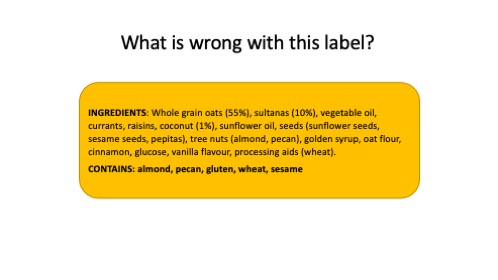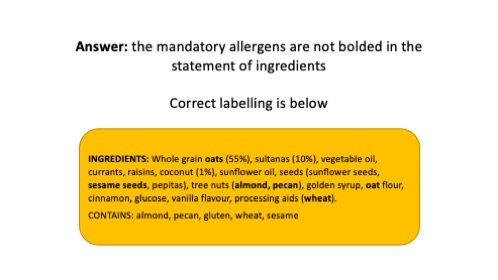 Ingrid Roche has been an Accredited Practising Dietitian since 1995 and has developed her expertise in food allergy over the past 11 years working at the Perth Children's Hospital (formerly Princess Margaret Hospital) in the field of allergy and immunology. She also has a private practice in Perth. Ingrid was chair of the Dietitian's Committee of the Australasian Society for Clinical Immunology and Allergy (ASCIA) from 2012 – 2018, during which time the ASCIA e-training dietitians was developed; as well as the ASCIA-CAL advanced learning course in food allergy in partnership with Dietitians Australia. She remains an active member of ASCIA and Allergy & Anaphylaxis Australia and is currently project co-lead on the food service project of the National Allergy Strategy. Ingrid is committed to providing and improving training in food allergy for health and other professionals, as well as improving the quality life for consumers and families living with food allergy.
To register for the presentation and associated documents including the assessment quiz click here