Nutritional Therapy in Inflammatory Bowel Disease. Presented by Liz Purcell, AdvAPD
Crohn's disease and ulcerative colitis are chronic auto-inflammatory conditions of the gastrointestinal tract. IBD affects more than 80,000 Australians, 60% of whom are under the age of 40yrs and the occurrence is higher in urban populations.
There is a projected 20-25% increase in incidence of IBD by 2022. The cause is not known, but it is believed to be a combination of genetic, environmental and immunological factors.
The nutritional issues associated with IBD include:
Malnutrition which is reported in 20-85% of people and thought to be due to a combination of; anorexia, malabsorption (inflammation/resection/bypass), increased intestinal losses, systemic inflammation.
Micronutrient deficiencies which occur in more than half of patients with IBD. The most common are deficiencies of iron, B12, vitamin K, folic acid, selenium, zinc, vitamin B6, and vitamin B1. Vitamin D is a particular problem.
Liz describes the use of exclusive enteral nutrition in the treatment of Crohn's disease as:
Safe, with no short/long term health risks
Few (if any) undesirable side effects
Efficacious in controlling disease activity, maintaining clinical remission and addressing malnutrition
Promoting mucosal healing
Having anti-inflammatory properties
Reducing micronutrient deficiencies, anaemia
Promoting bone turnover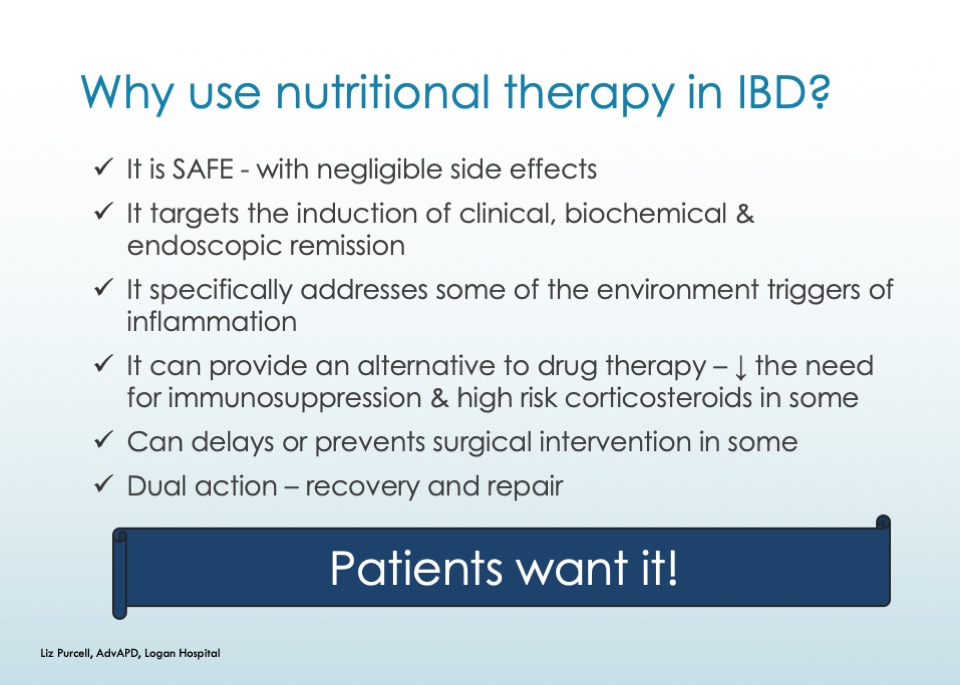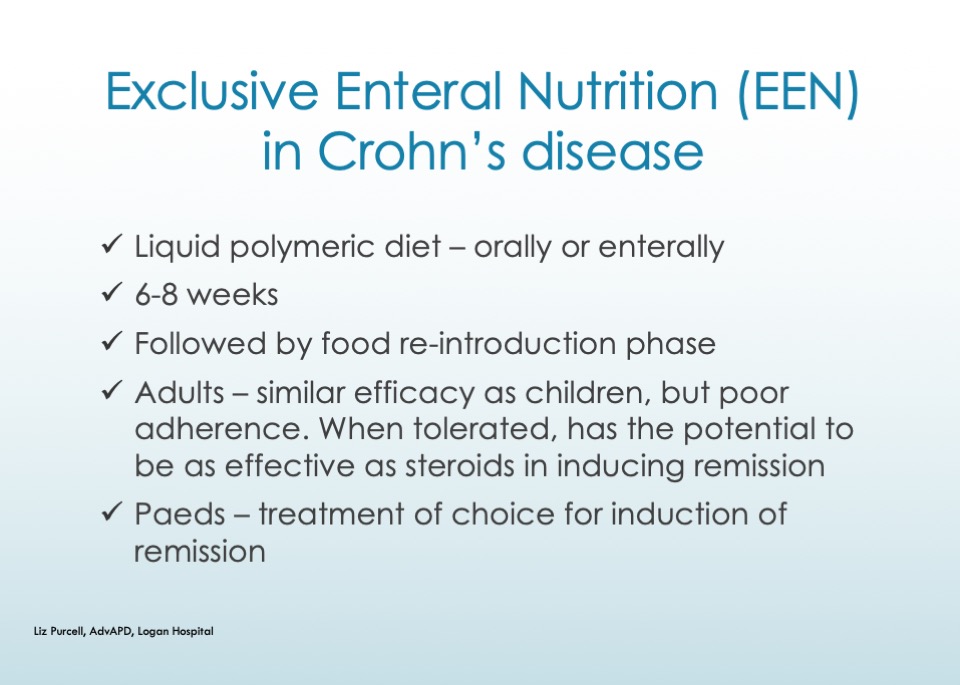 Liz Purcell is an Advanced Accredited Practicing Dietitian, with more than 20 years' experience. She is currently undertaking research in the area of exclusive enteral nutrition in the management of adults with Crohn's disease.
For more information and to register click here