Nutrition and wound healing. Presented by Rochelle Kurmis, APD
Nutrition plays a significant role in the management of wounds because wounds heal from the inside out. Specialised dressings are crucial, but if nutrition is underdone wounds won't heal. We need to be able to advise regarding optimal nutrition and correcting nutritional deficiencies.
Rochelle has presented for us on nutrition in wound healing in 2011 and 2015. In this presentation she summarises the findings of the systematic review she conducted last year which looked at nutrition interventions via the oral, enteral and parenteral route and their effect on outcomes such as wound healing, surgical anastomosis healing, length of stay and mortality.
Despite the recognised importance of nutrition in wound healing, there has been a paucity of high-quality evidence over the past decade.
Rochelle then provides us with a summary of the available guidelines for:
1. Chronic wounds
Trans-Tasman Dietetic Wound Care Group, Evidence Based Practice Guidelines for the Dietetic Management of Adults with Pressure Injuries (2011).
PEN Knowledge Pathway, Wound Care and Pressure injuries (2017)
National Pressure Ulcer Advisory Panel, the European Pressure Ulcer Advisory Panel and the Pan Pacific Pressure Injury Alliance (2019)
2. Acute wounds
SCCN (Society of Critical care Medicine)/A.S.P.E.N (American Society for Parenteral and Enteral Nutrition) supported ICU guidelines (2016)
Rochelle's take-home points are:
Wound management involves the whole team and nutrition is crucial
Good nutrition assessment underpins good nutritional management
Micronutrient concerns need to be addressed
Ensure adequate hydration
Monitor closely your patients wound progress as well as their nutritional intake
Consider immunonutrients (eg. Arg) when healing is delayed in patients with adequate energy and protein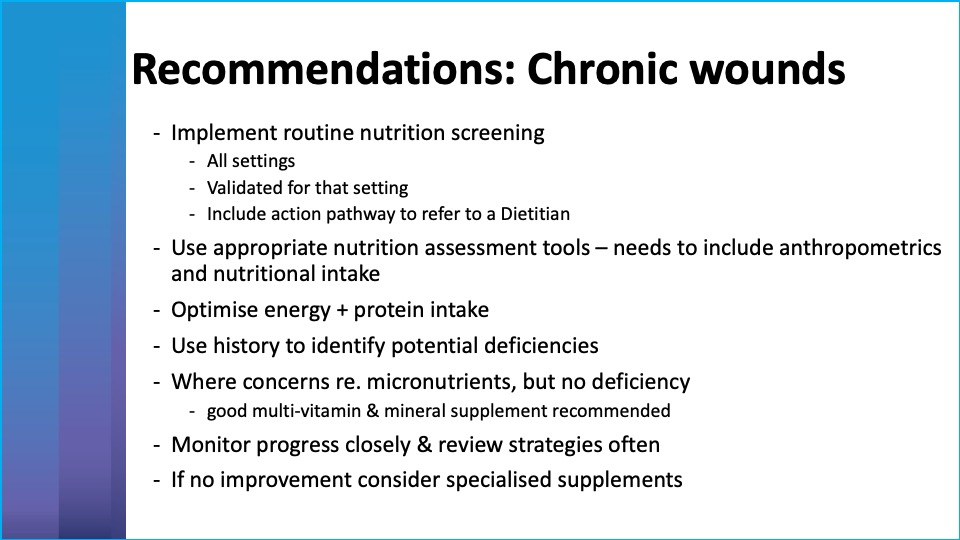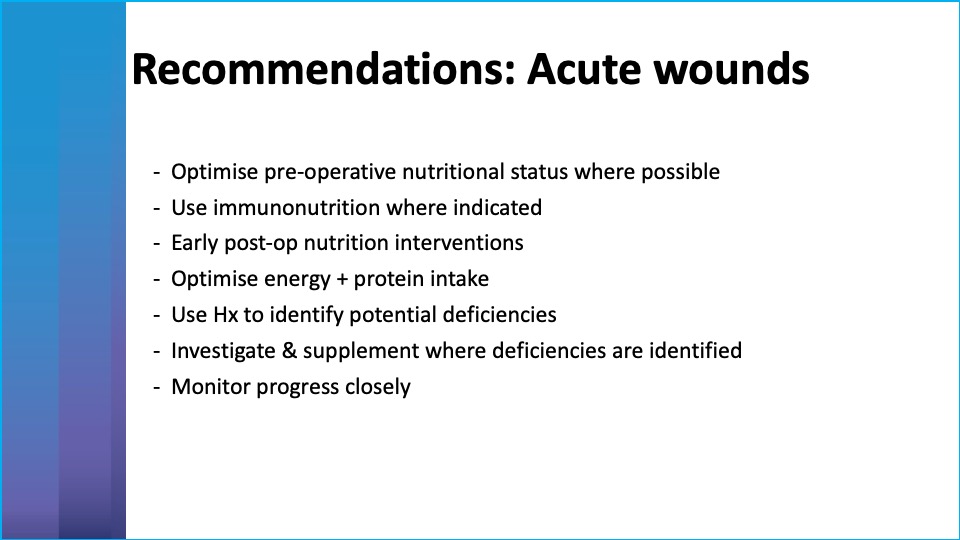 Rochelle Kurmis, APD is the Allied Health Project Manager for the Adult Burns Service at the Royal Adelaide Hospital (RAH). She oversees allied health research and development activities as well as quality assurance and improvement activities for the Adult Burns Service. Rochelle is current co-chair of the Joanna Briggs Institute (JBI) Burns Node, steering committee and reference committee member for the Burns Registry for Australia and New Zealand (BRANZ) and Burns Quality Improvement Program (BQIP) sub-committee member.
Rochelle is a strong advocate for the importance of nutrition in wound healing. Throughout her career, she has contributed to numerous related quality assurance activities, including participation in local, state, and national evidence-based guideline development projects, published and reviewed numerous peer reviewed journal articles, and co-edited the Australian and New Zealand Burn Association (ANZBA) Burns Trauma Rehabilitation Guidelines.
To register for the presentation and associated documents including the assessment quiz click here