Dysphagia and texture modified diets Presented by: Colleen Kerr, Speech Pathologist
Using footage of video fluoroscopy Colleen describes the anatomy of a normal swallow then compares it with footage showing the changes which occur in dysphagia.
She outlines the incidence of dysphagia including 15-30% of older people (>65yrs) living in the community and 100% of people with dementia.
She suggests viewing Swallow: A Documentary - Dysphagia a powerful 15-minute documentary which takes an inside look at the lives of those suffering from the horrible disorder of dysphagia.
Colleen describes the "older swallow" changes which occur in the oral and pharyngeal phases of swallowing which make older people so much more susceptible to dysphagia. She gives us excellent information about IDDSI and implementing IDDSI including these five actionable tips:
Provide an in-service on dysphagia, creating awareness and keeping the issue of dysphagia real
Show teams the IDDSI website, newsletter, display IDDSI posters and consider creating a working group to oversee the transition
Remind staff of IDDSI webinars on the YouTube channel
Start to play with foods using the IDDSI food tests
Download the IDDSI App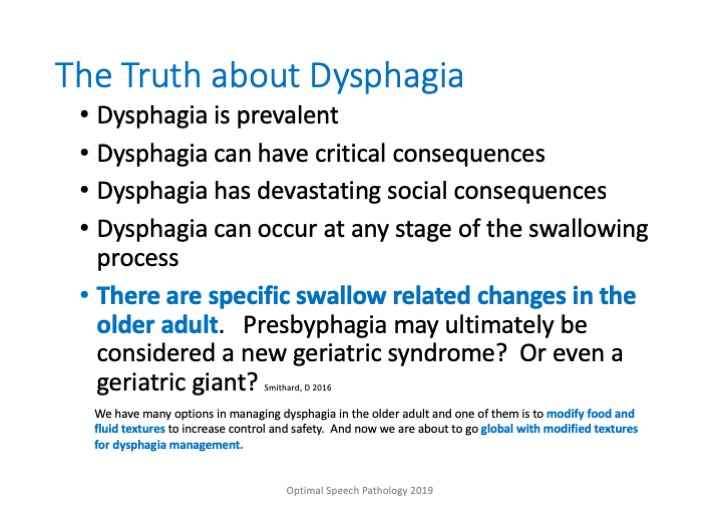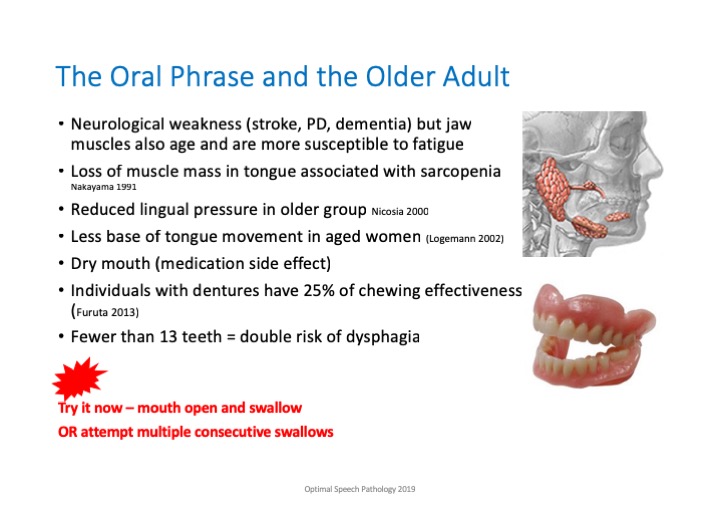 Colleen has worked as a Speech Pathologist for more than thirty years with extensive experience in adult communication and swallowing disorders in acute, rehabilitation and community settings. She is a Lifetime Care and Support Dispute Assessor in Traumatic Brain Injury and has published internationally in this field.
Colleen has been the Director of Optimal Speech Pathology for fifteen years and is driven to integrate research findings into clinical practice.
To register for the webinar and associated documents including the assessment quiz click here