Designing effective printed education materials Presented by: Dr Kelly Lambert, PhD, AdvAPD
Kelly provides us with the stark facts about literacy and health literacy in Australia and New Zealand, and it isn't good news. Over 45% of the population don't have adequate literacy and numeracy skills. This has huge implications for the way we communicate our health messages.
Kelly guides us through five evidence-based tips for designing printed education materials which will help us improve communication with our patients:
Design them with low health literacy in mind
Check them for readability, understandability and actionability
Ensure they are culturally sensitive
Gain feedback from consumers before release
Tailor your material to your specific patient group
She includes examples from her nutrition and dietetics department. Firstly, assessing the readability and understandability of their printed education material. Then looking at how changing the design and wording can significantly improve the ease of reading. If you have wondered about the detail or complexity of your printed education materials, this presentation will give you confidence to simplify them.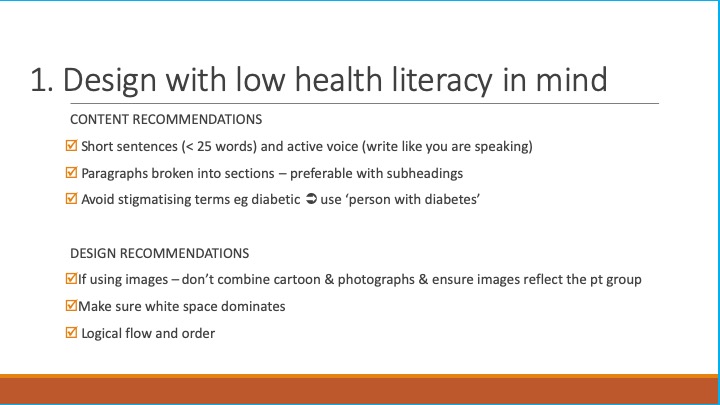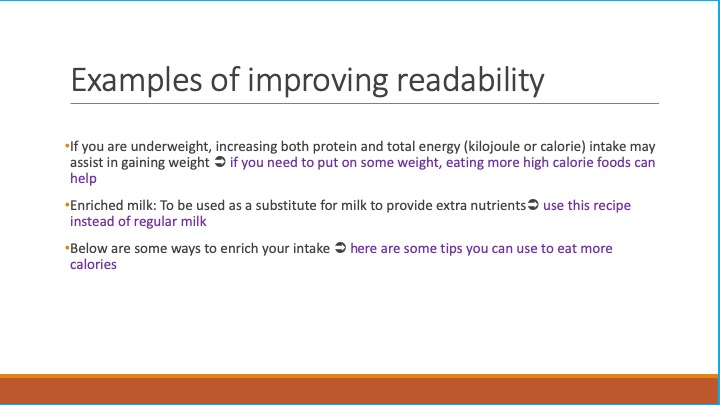 Kelly is an Advanced Accredited Practising Dietitian and Senior Lecturer at the University of Wollongong. Over 20 years in clinical practice has made Kelly concerned about the need for dietitians to change the way we deliver dietary education to patients. Kelly's research focuses on the use of patient counselling and education styles that are sensitive to low health literacy. She holds an NHMRC translational research fellowship to develop a new health literacy sensitive model of renal dietetic care.
To register for the webinar and associated documents including the assessment quiz click here