Self-control. Presented by Susie Burrell, APD, M.Sc. (Coaching Psych)
Susie explains the difference between self-regulation (a process) and self-control (an action). Self-regulation is considered one of the 24 Character Strengths which are the positive parts of our personality that impact how we think, feel and behave. Some examples of strengths are bravery, creativity, honesty, humour and social intelligence.
Generally, people score quite poorly in the area of self-regulation. Susie suggests that we take the VIA character tool test and consider using it with our clients.
It has been shown that people who have a high level of self-control are no better at resisting temptation than those who have lower self-control. So what do people with self-control do differently?
It appears they plan so they don't put themselves in the position of having temptation.
People with high levels of self-control establish routines engaged in planning to support the automisation of behaviours or habits that support goal attainment. They automatically incorporate the process that facilitates inhibition initiation of behaviours. They scaffold their planning process so they're less likely to be exposed to the temptation in daily life. For example, if they walk to work and don't want to be tempted by buying a muffin along the way, they plan to walk another route to avoid the muffin shop.
There is a significant planning process involved in being able to action self-control. This has implications for our clinical practice. If we give clients nutrition information and tell them what they should be doing but don't leave them with the skills to plan the action of that information, there is evidence that we do more harm than good.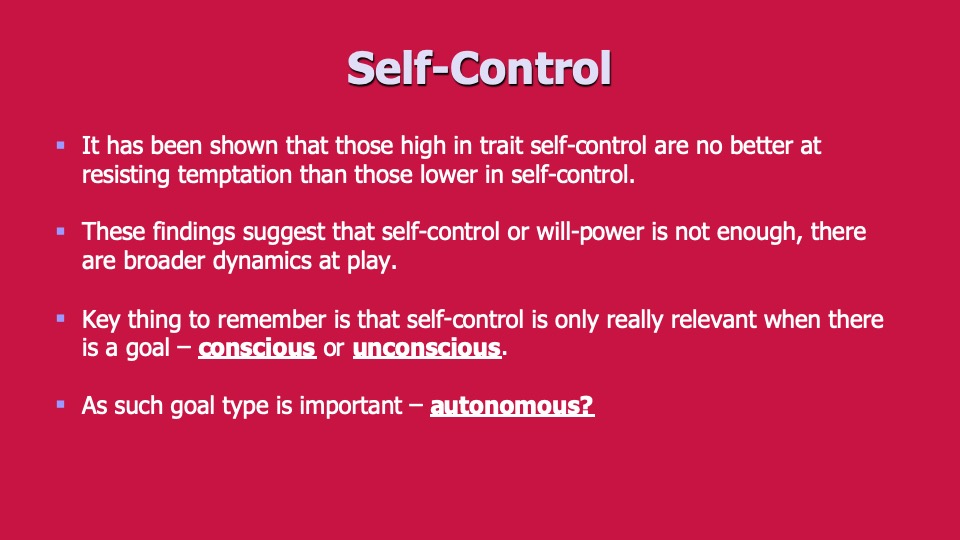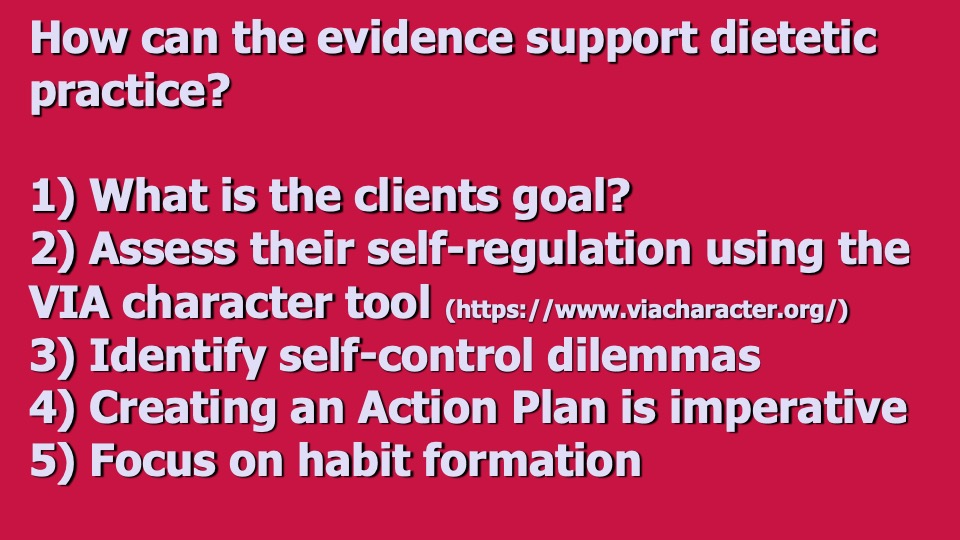 Susie Burrell is one of Australia's leading dietitians, known for her extensive background in both nutrition and psychology and for her practical, easy to understand approach to diet, nutrition and wellbeing.
Early in her career, she spent almost 10 years working at The Children's Hospital and with elite sporting teams including the St George Illawarra Dragons and the South African Blue Bulls where she gained much applied experience working with children, families and elite athletes. Susie is currently the resident dietitian on Channel's 7's SUNRISE, is a regular contributor to bodyandsoul.com.au and runs the online weight loss program Shape Me. Susie has recently completed a master's degree in Coaching Psychology at Sydney University, loves going on long walks around Sydney and is kept pretty busy with her twin boys, Gus & Harry.
To register for the presentation and associated documents including the assessment quiz click here