Pancreatic Exocrine Replacement Therapy by Ruth Vo, APD
Dietitians often lack the confidence to diagnose pancreatic exocrine insufficiency (PEI). But our involvement with GI clients puts us in a very good position to be identifying PEI.
In her presentation Ruth explains how pancreatic exocrine insufficiency is identified and how it can be managed with enzyme replacement therapy. It's an important topic because undiagnosed, PEI can be devastating, and treatment is relatively simple.
In the first hour of her presentation Ruth reviews the physiology of pancreatic exocrine enzymes and explains the signs and symptoms which indicate PEI. Ruth details why dietitians need to be expanding our current scope of practice with regard to PERT. We are in a position to be able to ask detailed questions about our client's diet, digestion and gut function. We often uncover signs and symptoms in our clients which may indicate PEI that may have been missed by their doctor. Often doctors have multitudes of concerns with complex clients and GI issues are not considered. Liaising and communicating with doctors is paramount to the successful introduction and management of PERT. PERT is safe and when trialled can give great results in the appropriate client.
In the second part of her webinar Ruth presents a case study about her client Stanley. She details how she diagnoses his PEI, explains his PERT treatment and the clinical troubleshooting when the initial treatment isn't as successful as expected.
This is a webinar and a case study in one presentation. The running time is 1hr 30mins. By the end you will feel more confident in managing clients with PEI and your clients will benefit.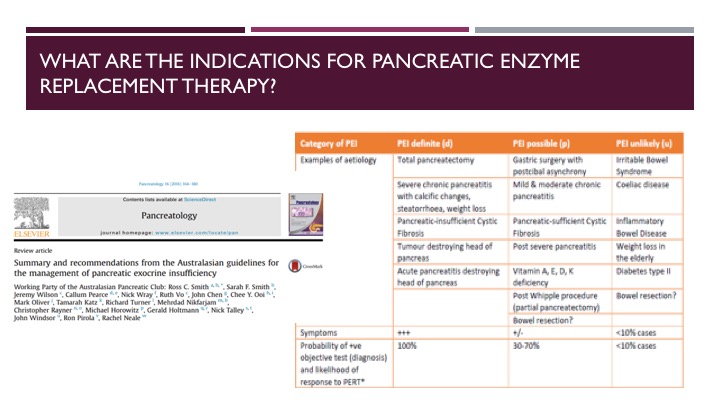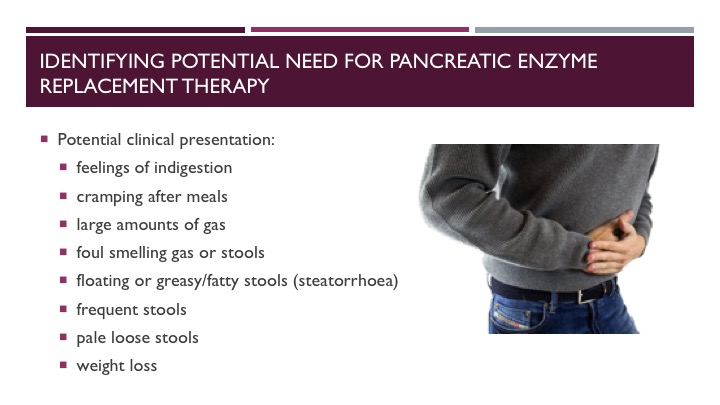 Ruth Vo has worked as a clinical dietitian for nearly 13 years and has specialised in gastrointestinal surgical nutrition. She was involved in the development of the Australasian guidelines for the management of pancreatic exocrine insufficiency and has been the DAA Gastro IG Convenor for the last 8 years. She completed a master's in health science in Education and is currently in the process of completing her PhD full time, which is exploring the nature of clinical decision making in acute care dietetics.
To register for the recording, assessment quiz and suggested further reading click here