Nutrition in the post-ICU period. Presented by Dr Emma Ridley, PhD, APD
Survival rates of ICU patients keep improving due to advances in critical care medicine. However, there are significant physical, cognitive and psychological consequences of being critically ill. In this presentation Dr Emma Ridley addresses what happens to people after they are discharged from the intensive care unit, particularly with regard to the nutritional consequences and ICU-acquired weakness.
In Emma's presentation she describes:
The definition of ICU acquired weakness
The effect of ICU-AW on ongoing health:
Increased hospital stay and 1-year mortality
Long term disability, physical impairments, reduced QOL, increased costs and healthcare utilisation
The physiology of ICU-AW which involves:
Acute skeletal muscle wasting
Inactivity
Inflammation
Oxidative stress
Neurologic damage
Sedation and neuromuscular blockade
The ebb, flow and anabolic recovery phases of critical illness and the nutritional consequences of these
Strategies to improve nutrition rehabilitation post-ICU:
What happens to patients when they step down from ICU into general wards (less acute nursing, premature feeding tube removal)
Education of team members regarding nutrition
Our role in advocating for nutrition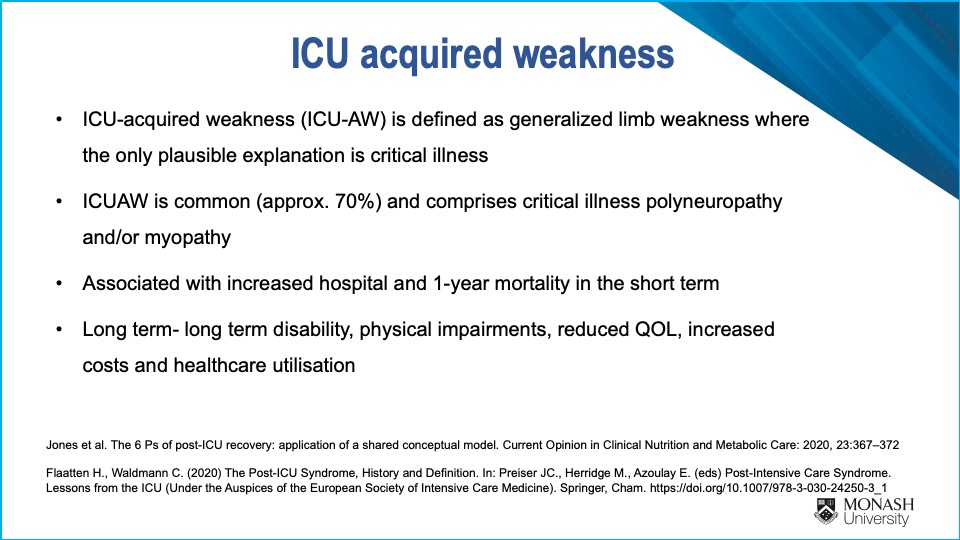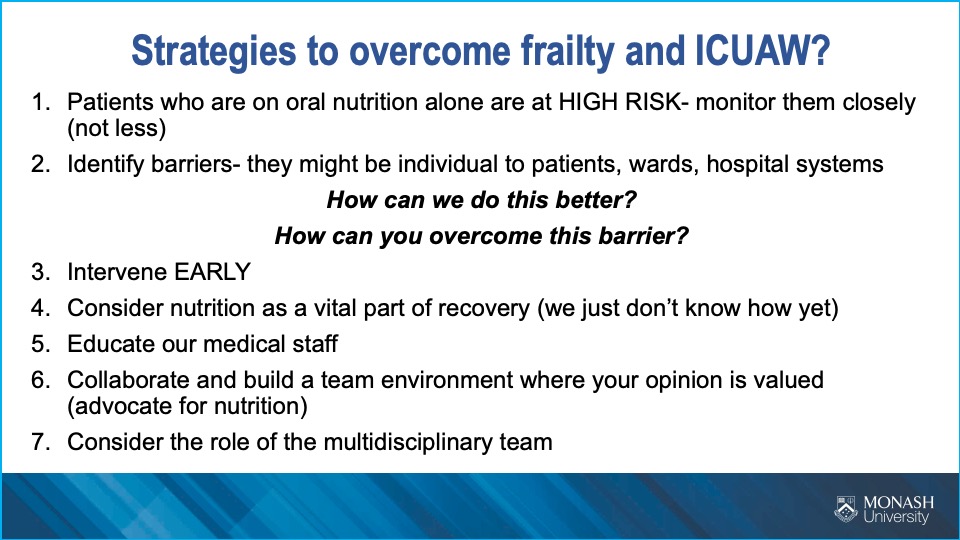 Dr Emma Ridley is a Senior Research Fellow at the ANZIC-RC, Monash University where she leads the Nutrition Program, an NHMRC Emerging Leadership Level 1 Fellow and a Senior Clinical Dietitian in ICU at The Alfred Hospital. Completing her PhD in 2018, current research interests include nutrition in the post-ICU hospitalization period, understanding the clinical application of indirect calorimetry and the effect of optimal nutrition delivery on short and long-term outcomes in ICU patients. In 2019 Emma was named as a Finalist in the 'Clinical Research' category of the Premier's Awards for Health and Medical Research for the work and outcomes within her PhD. Emma regularly delivers invited national and international presentations, is an Editor with Australian Critical Care and has authored 34 peer-reviewed publications, (including in the New England Journal of Medicine). Emma has been a named investigator on $6.3 million dollars of research funding with the teams she collaborates with and is the principal investigator on the INTENT trial that is exploring a whole hospital nutrition intervention in critically ill patients.
To register for the presentation and associated documents including the assessment quiz click here