How do professional development webinars influence clinical practice? Survey trends 2015-2019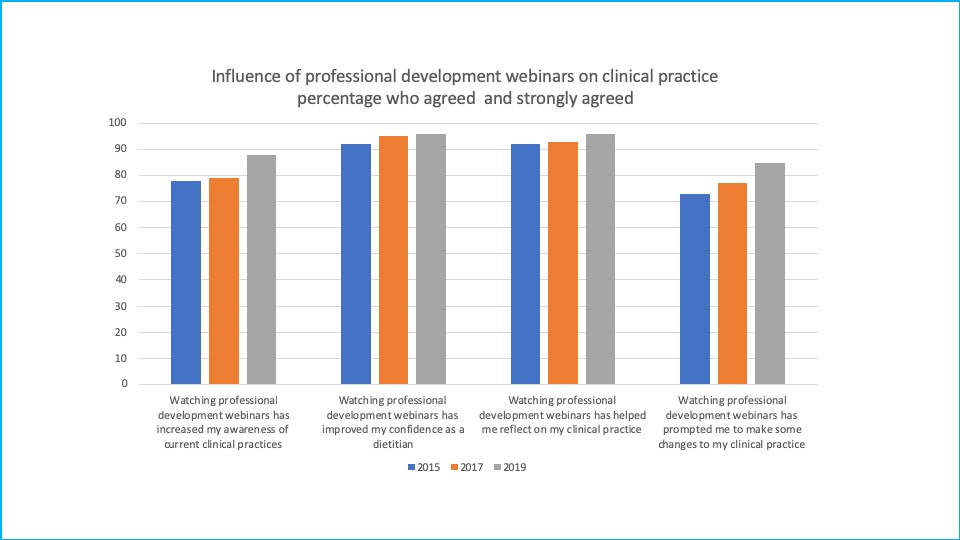 Professional development webinars improve awareness of current clinical practice and boost confidence according to our surveys conducted in 2015, 2017 and 2019. These surveys have helped us learn more about dietitians' use of professional development webinars and the responses reveal some interesting trends:
Professional development webinars have a positive influence on clinical practice
Our survey results show they
increase awareness of current clinical practices
improve confidence as a dietitian
help dietitians reflect on clinical practice
prompt changes to clinical practice.
Professional development webinars provide a significant level of professional development. For most dietitians surveyed they represent around 30 per cent of professional development.
Webinars are good value for money, say respondents. Other popular features of professional development webinars include:
you can view as much or as little in each session as you want
the presenter has extensive clinical experience in the area
Sources of professional development are shifting: the popularity of conferences and seminars appears to be waning, while interest in recognised courses and professional development webinars is increasing.