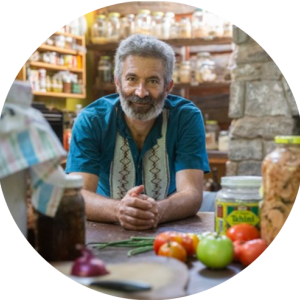 The art of fermentation
18 Jun, 2021
Enhancing the nutritional properties of food by fermentation
Sandor presents from his home kitchen in Tennessee:
An explanation of how fermentation can transform foods:
Pre-digests complex compounds
Detoxifies some poisonous compounds in food
Generates additional nutrients
Generates bacteria as probiotics
Ferment types:
Wild fermentation
Using starters

Pure culture
Back slopping
Distinct physical form
A wonderfully simple demonstration of how to make sauerkraut
Read a review of his presentation here
Watching this presentation and completing the assessment can contribute towards assessable Continuing Professional Development hours
About the Presenter
Sandor Ellix Katz is a fermentation revivalist. His books Wild Fermentation and the Art of Fermentation, along with the hundreds of fermentation workshops he has taught around the world, have helped to catalyze a broad revival of the fermentation arts. A self-taught experimentalist who lives in rural Tennessee, the New York Times calls him "one of the unlikely rock stars of the American food scene." Sandor is the recipient of a James Beard award and other honors.
Registration includes
Access to a recording of the presentation
Presentation notes
Assessment quiz and certificate
Suggested further reading
Registration types
On demand recording: from $38 receive a recording and associated documents
Subscription: $33 monthly for all Education in Nutrition recordings (minimum 40 a year)