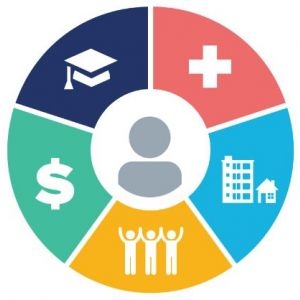 Acknowledging the social determinants of health
06 Aug, 2021
Circumstances beyond our individual control have a huge impact on our health
The presentation covers:
What are the social determinants of health?
How social disadvantage can lead to poor health
Addressing a client's social disadvantage within clinical practice

Understanding the community within which you work
Identifying social barriers to heath which may be present

Utilising available supports
Advocating for programs that support disadvantaged populations
Read a review of the presentation here
Watching this presentation and completing the assessment can contribute towards assessable Continuing Professional Development hours
About the Presenters
Dr Rebecca Lindberg is a mixed methods public health researcher with applied and academic experience. Expertise in not-for-profit food programs, social and health policy, nutrition inequities and chronic disease prevention. Currently at the Institute for Physical Activity and Nutrition and School of Exercise and Nutrition Sciences, Deakin University teaching and researching food systems, sustainability, nutrition and food policy. Previously at the Australian Health Policy Collaboration. Director of The Community Grocer.
Katrina Doljanin is a dietitian working in Community Health in Fitzroy, Victoria. Katrina has worked predominantly with people who are experiencing homelessness, live in public housing and come from a range of cultural backgrounds. She has a strong interest in improving the food security of individuals and the local community and has established and sustained the Café Meals Program in partnership with the City of Yarra.
Registration includes
Access to a recording of the presentation
Presentation notes
Assessment quiz and certificate
Suggested further reading
Open Access This presentation is distributed under the terms of the Creative Commons Attribution License which permits any use, distribution, and reproduction in any medium, provided the original author(s) and the source are credited.