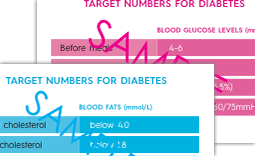 Wallet Card: Target Numbers for Diabetes
These helpful wallet cards give your clients a quick check for their target blood glucose and blood pressure readings. The reverse side of this handy card lists target numbers for blood fats (please use your professional judgement for each individual case).
These target numbers are based on the General Practice Management of Type 2 Diabetes, 2014–15. Melbourne: The Royal Australian College of General Practitioners and Diabetes Australia, 2014.