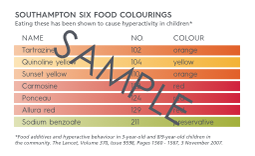 Wallet Card: Southampton Six Food Colourings
A landmark study carried out in Southampton, UK and published in the Lancet, 2007* showed that six artificial food additives cause hyperactivity in children. In response to this study, European foods containing any of the Southampton Six must contain this warning on the label — "may have an adverse effect on activity and attention in children". Unfortunately, these additives are still permitted in Australia, and are used widely.
This wallet card simplifies the complex so your clients can easily detect the Southampton Six. It's so straight forward, even kids can use this card.
*McCann D, Barrett A, Cooper A et al. Food additives and hyperactive behaviour in 3-year-old and 8/9-year-old children in the community: a randomised, double- blinded, placebo-controlled trial. Lancet 2007; 3(370): 1560–7.