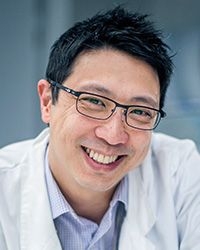 What's new in coeliac disease?
12 Feb, 2019
The latest developments in coeliac disease and the gluten free diet
Tuesday February 12, 2019
The presentation covers:
The evolving epidemiology of coeliac disease
Optimal diagnosis and management of coeliac disease and common patient questions - for example:
Should people who are HLA-DQ2/8 positive but without coeliac disease avoid gluten?
Role of the GFD in autoimmune diseases
Why does the GFD sometimes fail, including issues related to gluten contamination, and how to address this
Novel approaches to testing dietary adherence and assessing for gluten contamination
Role of tableside gluten testing kits and devices
Dietary controversies e.g. gluten contamination elimination diet, 20ppm vs no detectable gluten
Novel non-dietary treatment approaches e.g. glutenases, coeliac vaccine
Watching this presentation and completing the assessment can contribute towards assessable Continuing Professional Development hours
About the Presenter
Dr Jason Tye-Din, MBBS, PhD, FRACP
Dr Tye-Din is a gastroenterologist with a clinical and research interest in coeliac disease. He heads the Coeliac Research Lab at the Walter and Eliza Hall Institute, runs a coeliac clinic at the Royal Melbourne Hospital and is an Honorary Research Fellow at the Murdoch Children's Research Institute. His PhD employed feeding studies to characterise gluten immunity that underpinned development of a novel immunotherapy for coeliac disease, Nexvax2. His research interests include understanding the immune and genetic basis for coeliac disease and how gluten tolerance is lost, the role of the microbiome, understanding why the gluten-free diet can fail, and developing and testing novel diagnostics and treatments. He is on the editorial board of Alimentary Pharmacology and Therapeutics and consults for an industry partner (ImmusanT Inc.) who are leading the development of Nexvax2. Jason chairs the Medical Advisory Committee of Coeliac Australia and is involved in patient advocacy, clinical guideline development and medical education.
Registration includes
Access to a recording of the webinar
Presentation notes
Assessment quiz and certificate
Suggested further reading
Registration types
On demand recording: from $38 receive a recording and associated documents
Subscription: $33 monthly for all Education in Nutrition recordings (minimum 30 a year) and free access to all our live webinars