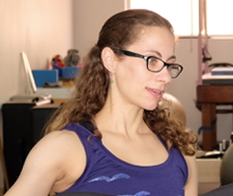 Exercise addiction
01 Sep, 2020
When movement becomes harmful.
The presentation covers:
Definitions and terminology
Primary and Secondary Exercise Dependence or Addiction
Condition prevalence
Risk factors
Management and treatment
The ESSA Professional Development Committee certifies that this Professional Development offering meets the criteria for 1 Continuing Professional Development (CPD) Points.
About the presenter
Elizabeth Hewett is an Accredited Exercise Physiologist, Strength & Conditioning Coach and Pilates teacher with over 20 years' experience. Over the course of her career, she has worked across the many facets of the rehabilitation and fitness industries, from starting out as a gym instructor aerobics teacher, and personal trainer, to the fledging exercise physiology and pilates professions in the early 2000s. Her passion and experience in dance led her to working at The Australian Ballet School for eight years, before establishing her own private practice in Fitzroy, Melbourne.
Her primary areas of interest include helping individuals with musculoskeletal pain and conditions, dancers and runners, including athletes who are recovering from eating disorders and/or disordered exercise.
Liz is a frequent presenter and educator, presenting at conferences for The Australian Pilates Method Association (APMA), ESSA, International Association of Dance Medicine and Science (IADMS), and workshops for the wider Pilates community, as well as a former President and committee member for the APMA.
Registration includes:
Access to a recording of the webinar
Presentation notes
Assessment quiz and certificate
Suggested further reading
Registration types:
On-demand recording: from $38 receive a recording and associated documents (buy 5 and receive 7)
Subscription: $33 monthly for all Education in Nutrition and Education in Exercise recordings (minimum 40 a year)