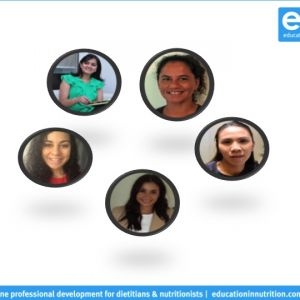 Diversity in dietetics
19 Sep, 2017
Available to view for Tuesday, September 19, 2017 (Dietitians Day)
In this free presentation, five dietitians share food and cultural knowledge from their own backgrounds. This is a wonderful opportunity to watch, gain insights and appreciate the diversity of food wisdom from our dietetic colleagues. Each presenter shares practical information about the types of foods eaten by the people of their culture. They will also help you understand the challenges of working with clients whose cultural background is different from our own.
Presenters:
Dung Pham (Vietnamese)
Purva Gulyani (Indian)
Farah Wilson (Middle Eastern)
Noell Burgess (Indigenous Australian)
Kirstine Kira (Maori)
Watching this presentation and completing the assessment can contribute towards assessable Continuing Professional Development hours. Bolded
About the Presenters
Dung Pham, APD, CDE:
Dung was born in Australia. Her parents are from Rạch Đĩa in South Vietnam. They fled Vietnam by boat thirty-four years ago, and eventually arrived in Australia. Dung is an Accredited Practising Dietitian and Diabetes Educator, able to use her Vietnamese-Australian background to benefit clients in community health and her private practice.
Purva Gulyani, APD:
Purva was born and raised in Delhi where she completed her Master of Dietetics and Food Service Manangement. She moved to Australia and became an Accredited Practising Dietitian in 2010. Purva has a private practice in Melbourne, Diet Yumm, where she specialises in clients who have undergone bariatric surgery.
Farah Wilson, APD
Farah Wilson is an Accredited Practising Dietitian working in Melbourne's northeast community health setting. While her parents are Lebanese, Farah was born in Australia but lived in Lebanon from 13 to 18 years of age. Her family continue to cook Lebanese-style food 90% of the time, and maintain as many cultural practices as possible.
Noell Burgess, APD
Noell is from Quandamooka country, Minjerribah [North Stradbroke Island]. She is an Accredited Practising Dietitian specialising in indigenous health, diabetes, general nutrition and sports nutrition. She has been practicing in Community Nutrition, Public Health Nutrition and Private Practice for 20 years, and now the Institute for Urban Indigenous Health.
Kirstine Kira, APD
Kirstine hails from Ngāpuhi, a Māori iwi located in the Northland region of Aotearoa (New Zealand). Born in New Zealand and now living in Queensland, Kirstine is a dietitian and nutritionist at the Good Start Program where her passion is channeled into working on improving the health and wellbeing of Maori and Pacific Islander communities.
Registration includes:
Access to a recording of the webinar
Presentation notes
Multiple choice questions and answers
Suggested further reading
Registration types
This is a free webinar for Dietitians Day 2017
Open Access This presentation is distributed under the terms of the Creative Commons Attribution License which permits any use, distribution, and reproduction in any medium, provided the original author(s) and the source are credited.