Nutrition and Burns: Case Study Presented by: Michelle Cork, State Adult Burns Unit WA
A 35-year-old male sustained burns to 50% of his body after accidentally spilling petrol on his clothes and then drinking with friends around a campfire, where an ember ignited his clothing.
In this case study, Michelle describes the general goals she explains to her burn patients:
Preservation of lean body mass
Promotion of immune defences
Provision of nutrients for effective wound healing
She explains the initial dietetic considerations and nutrition interventions for her case including:
The patient's potential for refeeding
Monitoring phos/mg/glucose/U&E's and supplementing as required
Recommendations for gradually increasing enteral feeding
Multivitamin supplementation
Estimating energy, protein and fluid requirements
Noting consistently raised BGL's and prompting an insulin infusion
Michelle provides details of the patients progress in stages through Days 6, 10, 13, 20, 24, 25 and 35 (close to discharge).
This case study illustrates:
The specialised knowledge of burns nutrition which is necessary for maximising patient outcomes.
How the dietetic role changes throughout the admission of a burns patient.
The importance of engaging with the patient, their family and the entire burns team throughout treatment.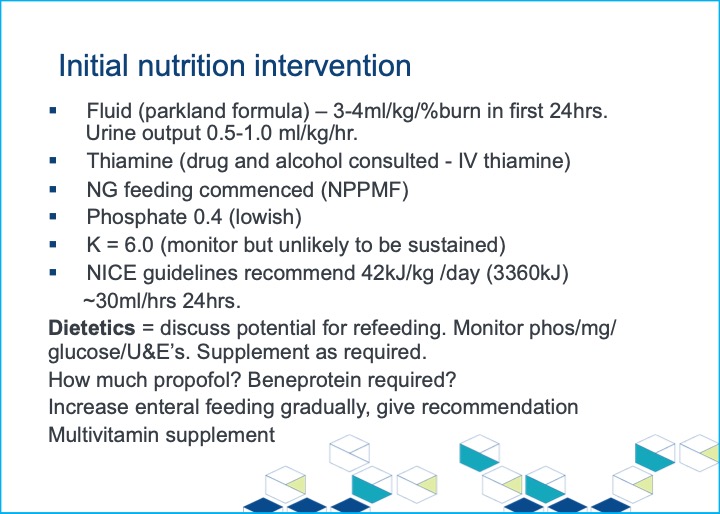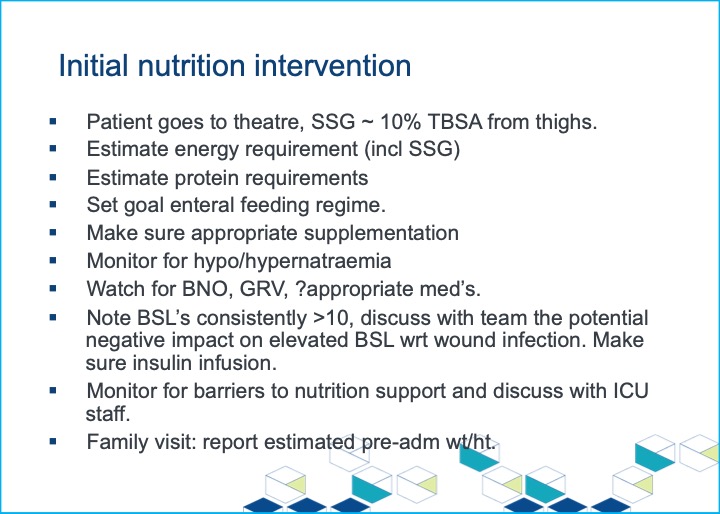 Michelle is the Senior Dietitian for the State Adult Burns Unit, at Fiona Stanley Hospital in Western Australia. She is currently undertaking a Masters of Clinical Science through the University of Adelaide which involves a systematic review of perioperative enteral feeding in burns patients. Michelle has presented at the Australian and New Zealand Burn Association conference and is a member of the Australian and New Zealand Burns Dietitian Discussion Group.
To register for the recording and associated documents including the assessment quiz click here