Iron deficiency. Presented by Katherine Shone, APD, AdvSD
Limiting exercise capacity in women.
In a culture where women will tend to minimise their experiences or offer self-criticism, the support of a health professional can be of great value. Helping to identify iron deficiency, to promote its successful treatment and to ultimately increase a woman's capacity for exercise (and life)- now that's feminism in action.
In this presentation, Advanced Sports Dietitian Katherine Shone offers her knowledge regarding the practical aspects of iron deficiency management in clinical practice. Starting with unpacking some basics of iron and its role, we get a tidy rundown of how it acts as a nutrient. As a structural component in red blood cells, it is clear that iron is an entirely relevant nutrient in sports- yes- but also in any form of exercise and movement that requires the use of oxygen. This has been missing in our conversation about active women- we aren't just talking about athletes.
Katherine takes us briefly into the dietetic world of relating this nutrient to the real practice of eating food which provides context for how iron deficiency can show up. To understand the GP and Dietitian roles, as well as the biomarkers for the stages of iron deficiency, gives Exercise Physiologists a broad picture in which to place their potential role. Iron deficiency can be observed in exercise settings- and thus Exercise Physiologists can play a key part in the identification and onward referral of those at risk.
Yes, this is within our scope. Yes, this is meaningful action. Yes, this is something we should know more about.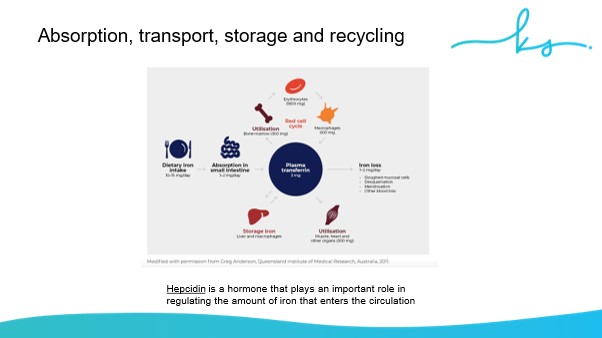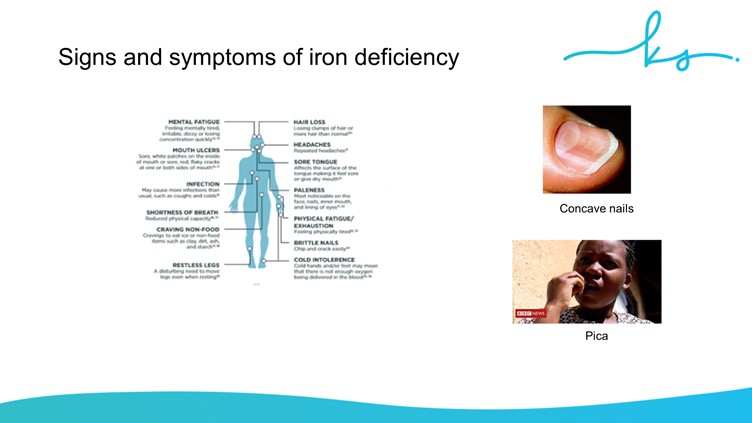 Katherine Shone is an Advanced Sports Dietitian currently working at Olympic Park Sports Medicine Centre and her own private practice KMShone Nutrition. Her clients are active at all levels right through to athletes at the amateur and elite levels.
Katherine specialises in nutrition for the performing arts, Relative Energy Deficiency in Sport and athletes with Eating Disorders. Over the last decade, Katherine has developed her skills as a Sports and Performance Dietitian through her experiences with various AFL, VFL and triathlon clubs. She also delivers nutrition education at the Australian Ballet School, The Victorian College of Arts and The National Institute of Circus Arts.
Katherine routinely lectures on the topic of sports nutrition at Deakin University, as well as at The University of Melbourne where she's also recently been involved in writing the nutrition unit for the Masters of Sports Medicine program. Her passion for sports nutrition stems from her personal involvement in endurance events including Ironman, marathon and ultra-marathon races.